If you are looking for a beautiful vacation spot, Pensacola Beach Florida RV Resort can't be beat. As you drive over the bridge to get to the island, it feels as though you are entering your own cocoon. We immediately fell into vacation mode, how could we not! Here's why we love this area so much and Pensacola Beach RV Resort.
The Location
Santa Rosa Island is a barrier island which sits just off the Florida Panhandle in the Gulf of Mexico. It is a beautiful place – mostly protected land which provides some of the most scenic and natural beaches you can find anywhere. To the western end of the island sits the town of Pensacola Beach, a wonderful seaside destination for anyone who loves hanging out at the beach.
Right in the middle of town, sitting on the "sound" side of the island is Pensacola Beach RV Resort. We stayed at this resort for the entire winter this year- 4 months and loved every minute of it.
For location, this park just can't be beaten. It is right in the heart of town, so restaurants, shops, and the gulf beaches are all easily walkable. This is a bustling area but keeps a seaside feel. No major retailers are out here – more mom and pop shops, but the restaurants are really good and many feature entertainment.
Our favorite in the immediate area was Flounders. They have amazing food (we highly recommend that you try the Stuffed Flounder, it was to die for), seating right on the sand, and a playground for the kiddos. It is not often that we get the chance to go out to dinner with the kids AND enjoy a few cocktails.
But since it is right next door and the kids LOVE the playground and beach, it's WOO HOO for us! Since Pensacola Beach is just across the bridges from Gulf Breeze and Pensacola, you are also very close to larger shopping venues like malls, Walmart's and large grocery chains as well as Downtown Pensacola.
The Campground
The park has 72 sites all with full hook-ups, and cable TV. All are paved as well and have a paved picnic table slab as well as a picnic table. They vary in size but the park can handle any size rig. About 17 of those sites are beach-front.
A few of the sites are designed a little funny in that the hookups are closer to your neighbor's slab than yours so your electric, water and cable lines run across the neighbors' site. My theory is that these sites were designed as pull-in sites and are now used for back-ins. We had one of these sites.
It is a bit awkward at first, but believe me you get over it fast when you relax into thinking about where you are camping. Plus you get to know your neighbors faster than normal!
Being directly on the sound, the resort features its own private beach complete with a volleyball net, kids playground, and beach chairs. The central building has 4 bathrooms/shower rooms, laundry room, Tiki Shop, gathering area and of course, the pool. Since the building sits up on stilts, the area underneath is open as a picnic area complete with a large gas grill.
There are also a couple of dog walks and a large green area in the center of the park if the kiddo's want to kick around a ball. Our site opened out to this green area which we liked quite a bit. The sites are a bit tight and having that open area is really nice. The sites are tighter than other places we have stayed at, but everyone we met at this park was super friendly. The kids made some great friends, both young and old, including the four-legged kind!
Dog-Friendly
This park is super dog-friendly, and it seems that everyone has at least one dog! Our kids love dogs, so I think we met and became friends with most of the dogs there. They have a couple of places where you can take your dogs to do their business, one is towards the entrance and one is towards the back exit.
We met some amazing people through their dogs and our kids. The kids definitely had some favorites like Phoenix, Bentley, Molly and Desmond. Not all places are as dog-friendly as this place is, and we loved it for that. We also liked that everyone picked up after their dogs, this is not always the case as you travel around, so it is always nice to be in a place where everyone does the right thing.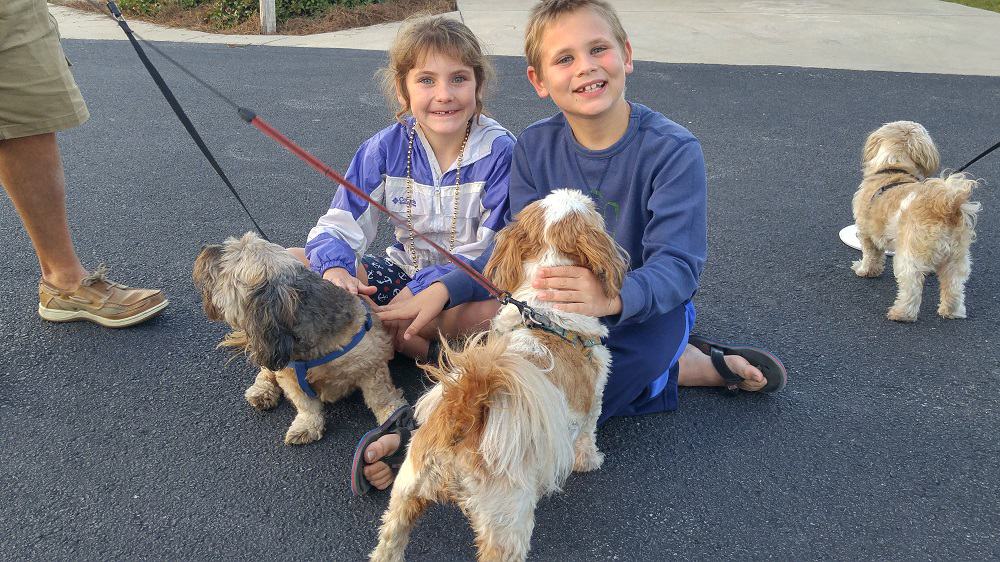 The Staff
As most of you know, friendly staff is not a given at every campground, in fact some (not many) can be downright rude! Not so here, the staff are very friendly and try very hard to accommodate their guests.
We had an issue with our site on arrival and though it was difficult, they got us into a more appropriate site which we were able to enjoy for our entire stay. We decided at the last minute to stay for an extra month, and again they did their best and kept us in our same spot.
The Views
We loved taking the views in each morning or in the evening time, sometimes we had to pinch ourselves that it was actually real! To be able to sit outside your rig and look at the water was magical for us. I loved sitting out at night and enjoying the lights from the various hotels and restaurants.
They had a boat show at Christmas time and you could actually sit and watch it from your campsite. Another thrill for kids and parents alike was seeing the Blue Angels fly over the beach from time to time. That was like the icing on top!
Amenities
There are several bathrooms where you can shower and the water pressure is quite good. The bathrooms were in great condition and they appear to have several. Anytime we wanted to use the showers, they were free to use and the water pressure was great. The laundry room was nice and open, it had 4 washing machines and 4 dryers.
They had an ironing board and a table to fold. There wasn't anything to hang your clothes on, that would have been helpful, although they did ask for suggestions and that was one thing we suggested they put in. Mondays are usually a busy day for laundry, so maybe try a different day, we never found it too busy.
They do have a pool, it's not very big, but it's enough room to hang out with the kids and cool down. Anytime we went to the pool it was empty, so I think most people tend to head to the beautiful beach and hang out there.
We arrived at the campground during November and found out that they were having a Thanksgiving dinner for their residents. Normally we cook our own meal for Thanksgiving but we decided to give that a try. They did such a nice job decorating the room and welcoming everyone. The staff really seem to go out of their way to make people feel welcome.
Things To Do
There is so much to do in Pensacola Beach, we spent a lot of our time at the beach with the kids, the fact that we were steps away was huge. Instead of getting up early to pack a picnic, I could leave the beach to go home to make lunch and carry it back over.
The Naval Air Museum is free and worth several trips to check it out. You can check out our post on the top ten things to do in Pensacola Beach, FL . We also spent a lot of time walking around and riding our bikes, there are tons of bike paths around the area including right along the beach!
Need Top Quality RV Rentals In Pensacola?
Costs and Fees
To be honest, we had seen this campground when we stayed in Navarre, FL last year but assumed the fees would be too high to pay, we don't like to pay over $800. I mean when you look at a campground that is steps from the beach, restaurants and everything else Pensacola Beach has to offer, I would expect the fees to be over $1000 for the month and we honestly didn't think they would even have the room for us to stay for a month.
Thankfully this year we called to see if we could stay for several months and we were pleasantly surprised that they said yes and the cost was $845 per month with a 3 month discount. We were shocked, to say the least, and screamed yes immediately and booked ourselves in for 3 months from November thru February. Yes we decided to stay an extra month (Who wouldn't) and yes this was slightly over our budget but once you see the location, you won't mind paying a little extra!
UPDATE: Unfortunately since our stay at the park, the fee structure has changed and the multi-month discount no longer applies. The fees are quite a bit higher.
Where is your favorite place to stay in FL? Please share it with us and tell us why you like it so much.
We highly recommend this place, it's the perfect place if you want to come and chillax with kids. There's so much to do in nearby Pensacola, and having the beach across the road is incredible! If friends or family want to come to visit, there are lots of hotels to choose from nearby – in fact, once they see this area they might never leave!
If you're interested in following us along on our travels, you can follow us on Instagram, or on facebook here or come join our facebook group.
Grainne Foley
Grainne Foley grew up in Ireland and spent summers caravanning around Europe with her family. Now, as a wife and mother of 2, she spent 5 years traveling the USA as a full time RVing family. She is passionate about travel, and helping others who are considering the RV lifestyle. She has created dozens of helpful RVing checklists which are available throughout the website, and has curated hundreds of simple, flavorful meals for families on the go.