How Much Does A Camper Weigh?
The average 

Teardrop Trailer 

weighs 2500 lbs (1134 kg) and can be towed by most SUV's and trucks.
The average Pop-up Trailer weighs 1500 lbs (680 kg) and can be towed by most SUV's and trucks. 
The average small Travel Trailer (<25 feet) weighs 3500 lbs (1588 kg) and can be towed by mid size SUV's and small pickup trucks. 
The average large Travel Trailer (>25 feet) weighs 6300 lbs (2858 kg) and can be towed by larger SUV's and 1/2 ton pickup trucks. 
The average small Fifth Wheel (<35 feet) weighs 9000 lbs (4082 kg) and would need a 3/4 ton truck once loaded. 
The average large Fifth Wheel (>35 feet) weighs 12000 lbs (5443 kg) and would need a heavy 3/4 ton or one-ton truck. 
The average Toy Hauler Fifth Wheel weighs 15000 lbs (6804 kg) and carries large cargo requiring a one ton truck to tow. 
Of course, with many manufacturers and multiple lines of each type of camper there are many different variants. Having a good knowledge of the specifications that are critical in matching tow vehicle and trailer is the first step in teaming a rig that will keep you safe while on the road. 
Get Your FREE Printable Here!
Just input your email and the National Parks Checklist will be delivered straight to your inbox! 
We won't send you spam. Unsubscribe at any time.
Weight Factors To Consider
When it comes to calculating the average camper weight, there are several things that must be considered and understood in order to make the right match. 
The dry weight (unloaded vehicle weight– UVW) of a camper is the weight of an empty camper trailer, including all tanks i.e., water tanks, propane tanks, etc.
Once the camper is packed with your camping gear and water, the total weight of the camper will increase approximately 1,500 pounds or more, depending on the specific rig.
This total weight is the GVWR (Gross Vehicle Weight Rating) or how much the trailer is allowed to weigh when fully loaded.
The weight in gear that your trailer can carry is the Cargo Carrying Capacity (CCC.)  
Another thing to understand before shopping for a trailer is dry hitch weight. This weight rating is the amount of weight that is placed on your vehicle's trailer hitch as opposed to what is carried by the axles/ wheels of the trailer.
Typically, this is fifteen to twenty percent of the total weight of your camper, including camping gear.
Camper Construction Can Effect Camper Weight
The construction of your camper can affect the weight of the trailer. For example, slide outs help increase the square footage of a camper; however, a slide out can increase the weight of the vehicle by about 800 pounds.
If you have multiple slide outs, the weight of the camper can increase significantly, and the type of towing vehicle needed can vary.
One thing to be very aware of is that sometimes, in order to keep weight down, the larger RV's can carry undersized tanks, or have smaller allowable payloads.
Make sure you know what you are getting here before you buy- especially if you intend to spend a great deal of time in the rig. 
Getting The Right Tow Vehicle
You can tow a camper with a car, SUV, or truck, depending on the weight of the camper. The highest towing SUV's will pull around 10,000 lbs so if you are towing a larger camper, you will need a truck.
If the travel trailer is heavy or you will be traveling great distances, you may want to opt for a diesel engine. Diesel vehicles are designed for towing and will provide you with better gas mileage.
Additionally, running slightly below the speed limit can help decrease your gas consumption.
Average Camper Weight Examples
Let's look at different types of camping trailers to help you determine the type of trailer (pop up camper, fifth wheel, travel trailer, toy hauler, airstream, or teardrop camper) your vehicle can handle. We have listed some of the most popular lines along with their average weights, etc. 
Escapod Topo Travel Trailer:
The Escapod Topo is a super small design known as a "teardrop" trailer. This trailer is 12.5 feet long and weighs in at 1600 lbs. A water tank is optional bringing the weight up to a whopping 1800 lbs. Lets face it, you could tow this baby with your bicycle.
Forest River R-Pod Travel Trailers:
The Forest River R-Pods are a very successful line of exceptionally small and lightweight travel trailers designed to be towed by…well… just about anything.
The overall 2021 series of R Pods runs from 19 to 25 feet in length and have dry weights between 2700 and 4500 lbs and can hold cargo weighing from 748 to  1308 lbs. Fresh water tanks hold between 30 and 36 gallons of water. Gray and black tanks hold 30 gallons each across the line. They have also added some nice features like larger refrigerators and central vacuums. 
So even the heaviest R-Pod could be towed with a tow package equipped Jeep Wrangler or most small pickup trucks.
Oliver Elite and Elite II Average Camper Weight
With its outer fiberglass double wall construction, the Oliver Elite line of travel trailers are quite unique to the RV industry. There are only 2 models available and each one is custom made for the consumer. The Elite model weighs in at 3400 lbs empty and 5000 lbs fully loaded. It has a 30 gallon fresh water tank, 32 gallon gray tank and an 18.5 gallon black tank. It is 18.5 feet long and has a hitch weight of only 340 pounds. It sleeps 3.  
The larger brother, the Elite II is 23 feet long and weighs in at 4600 lbs dry and 7000 loaded. It has the same water system as the smaller trailer and also sleeps 3. 
Jayco Jaysport Pop Up Camper:
Pop up campers are the type that have a roof that "pops up" to reveal soft sided walls, and bunks that fold out of the sides, front and back. The Jaysport line includes 4 floor plans ranging from  8'6″ to 15'6″ (towing) and 16'2″ to 21'6″ (camping).
The trailers run from 2250 to 2750 lbs loaded with a hitch weight of 210 to 240 pounds.  Many vehicles will tow these trailers.
Airstream Flying Cloud Travel Trailer:
The Airstream Flying Cloud line encompasses 16 floor plans ranging from 23 to 30 feet long and sleeps up to eight people. The Airstream's fresh water holding tanks hold between 39 and 54 gallons, the gray water capacity is 21 to 38 gallons, and the black water holding tank is 18 to 38 gallons.
The dry weight of the Flying Cloud is from 4751 lbs to 6557 lbs and the gross vehicle weight rating is 6000 to 8800 pounds,depending on the model. The hitch weight is 654 to 903 pounds. So any of them can be towed by a 1/2 ton truck
Coachmen Apex Nano Travel Trailers:
The Apex Nanoline offers 12 models including the  2019 RV News "Best In Show-Ultralight" award winning 15T model. This line includes travel trailers from 18 to 27 feet long and sleeps up to 7 people. These trailers have fresh water tanks between 30 and 50 gallons and gray and black tanks between 30 and 35 gallons.
ALL of these RV's weigh under 4000 lbs dry, and have GVWR's of 6000 lbs or less which means that ALL of them can be towed with a 1/2 ton truck. Hitch weights run between 316 and 516 lbs.
Coachmen Clipper Ultra-Lite Travel Trailers:
The Coachman Clipper Ultra-Lite camper line offers 29 different floor plans. They run from 16 to 25-1/2  feet long and can sleep up to 7 people. They include a fresh water system of 33 to 40 gallons, a gray water capacity of 25 to 27 gallons, and a black water capacity of 25 to 27 gallons.
The dry weight of the Coachman Clippers runs between 2335 and 5012 pounds, the gross weight rating is 3675 to 6585 pounds, and a dry hitch weight is 292 to 625 pounds.
Most of these units can be towed by a 1/2 ton truck.
Cruiser Radiance Ultra Lite Average Camper Weight:
The Radiance line of travel trailers includes units from 27 to 37 feet long and sleeps up to 9 people. The dry weight of these campers is between 5304 and 7532 pounds, and the hitch weight is runs from 640 to 1042 pounds. Gross vehicle weight rating is between 7640 and 9842 pounds which makes them 1/2 ton towable.
The Radiance has a fresh water capacity of 44 gallons, a gray water capacity of 30 gallons, and a black water capacity of 30 gallons up to a whopping 87 gallons. Thats a LOT of poo!
Forest River Flagstaff Classic Travel Trailers and Fifth Wheels
The Flagstaff line of travel trailers and fifth wheels includes 24 models ranging from 25 to 37 feet long and able to sleep up to ten people  The dry weight runs from 8327 lbs up to 10321 on the heaviest fifth wheel. With hitch weights maxing out at 1637, this entire line could potentially be towed with a 1/2 ton truck depending on how much payload is carried (and the specific truck).
The payload capacity of the Flagstaff is between 1502 and 2702 lbs. Ironically, the smallest allowable cargo payload is for the heaviest (large) fifth wheel, so this should be kept in mind.
The fresh water tank capacity on every RV in this line is 60 gallons. The gray tanks 45 to 128 gallons, while the black tanks run between 40 and 45 gallons. Be aware here as well, that the largest rigs sometimes have the smaller tanks.
Forest River RV Vengeance Toy Haulers
The Forest River RV Vengeance is is a line of high end toy haulers. As such they are heavy duty, weigh a lot and have tons of storage capacity- including a bunkhouse/ garage that will carry your motorcycles/ golf cart. etc.
We include this specific line because its 2020 385FK13 model has won BUKU awards from RV News AND RV Business, including "Best in Show", and "RV of the Year." Their 2021 Rogue 351 model also won RV News 5th Wheel Toy Hauler of the Year!
There are 4 floor plans in this line, running from 42 to 44 feet long and sleeping up to about a dozen people. The RV's have a fresh water capacity of 100 gallons, a gray water capacity of 50 to 100 gallons, and black water capacity 80 to 100 gallons. This makes these units well suitable for longer term usage AND boondocking.
The dry weight of the Forest River Vengeance is 14221 up to 15644 pounds, the cargo carrying capacity is 4912 to 5356 pounds, and the dry hitch weight is 2640 to 3234 pounds.
Jayco Eagle Fifth Wheels Average Camper Weight
The Jayco Eagle 5th wheel line includes 7 floor plans and sleeps up to ten people. These are a "middle of the road" series as far as weight goes running from 12995 lbs to 14995 lbs fully loaded and hitch weights from 2110 to 2402.
This would put them in the 3/4 ton to one ton truck category depending on the truck. The water system for all models is similar with 75 gallons fresh, two gray water tanks of 50 and 37 gallons, and a black tank of 50 gallons. Some models include a second 37 gallon black tank.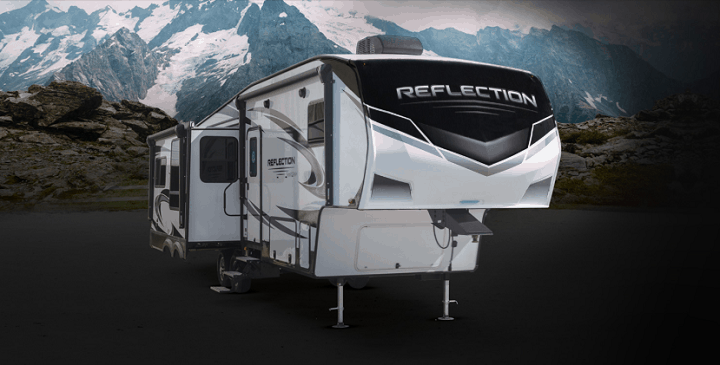 Grand Design Reflection Fifth Wheels
The Grand Design Reflection line of 5th wheels is one of the best selling and best built RV lines. The Reflection "150" series includes 6 floor plans ALL designed to be 1/2 ton towable.
The Reflection series is a line of 8 floor plans which are a bit larger and heavier so could require a 3/4 ton truck to tow. The entire line runs between 28 and 36 feet long and can sleep up to ten people.
The campers have a 52 to 60 gallon freshwater system, the gray water capacity is 71 to 94 gallons, and the black water capacity is 39 to 87 gallons. The dry weight of the series is 6888 to 12474 pounds, the gross weight rating is 9495 to 14995, and the hitch weights run from 1195 up to 2509 pounds.
Highland Ridge RV Open Range Fifth Wheels:
The Open Range line includes 15 models. 5 models are called "Light" and 10 are simply "Open Range." These 5'ers run between 29 and 43 feet in length. The "Light" models weigh in starting at 7300 lbs up to 9535 lbs. With GVWR's maxing out at 11,500 lbs and hitch weights all below 1650 lbs, the "Light" series are all 1/2 ton towable depending on your truck.The "Open Range" series are larger and heavier. 
Their GVWR's start at 12500 and go up to 16470! Hitch weights are 1665 to 2535 so a 3/4 ton or one ton truck will be required. The largest sleeping capacity is ten people. The campers features 50 gallon up to 85 gallon freshwater system, a 58 to 132 gallon gray water system, and a 29 to 80 gallon black water system.
Keystone Montana Fifth Wheels
The Keystone Montana line is one of the most successful RV lines ever, topping sales for 5th wheels 14 years running. Their 2021 models are some very exciting new designs included in it's 22 available floor plans. These are not small 5'ers, all models falling between 35 and 41 feet.
The dry weight is between 11999 and 14147 lbs and the Cargo Carrying Capacities run between 2280 and 2940 lbs. The water system is the same through out the line with fresh water tanks of 66 gallons, gray tanks holding 88 gallons and black tanks holding 49 gallons.
A 3/4 or one ton truck would be required to pull one of these beauties.
Many individuals will also use a generator for power when they are not camping in a campground (going off grid). The weight of the generator will also need to be calculated into the overall weight of the camper.
Campers come in a range of sizes and shapes. Understanding how much your travel trailer weighs when it is unloaded as well as how much it will weigh once you load in your camping gear will help you determine the type of vehicle that is needed to tow your vehicle.