Are you tired of the same old camping experience and looking for ways to elevate your outdoor living space? Look no further! We've gathered 10 creative camper deck ideas that will transform your RV into a stylish and functional retreat. From elevated decks to portable options and eco-friendly materials, these DIY projects will inspire you to create the perfect outdoor oasis for your next adventure. Buckle up and let's dive in!
"Elevate Your Adventure: 10 Creative Camper Deck Ideas to Explore"
Key Takeaways
Elevate your RV living experience with creative camper deck ideas for 2023 like elevated decks, multi-level designs, and wrap-around options. Whether you move around or have a permanent site, there is an RV deck for you.
Add unique features to make the most of your outdoor space such as built in seating, integrated storage solutions & custom lighting.
Create an eco friendly camper deck using composite wood or rubber tiles while following DIY tips on preparing the ground & selecting lumber safely.
Elevated Camper Deck Designs
Elevated RV decks can be an ingenious way to add living space and storage, as they are constructed off the ground. These deck ideas could provide you with a more comfortable camping experience through giving additional room for entertaining friends, having privacy and shielding from sunlight.
Imagine unwinding on your own elevated patio while savoring the sights around you. This makes it possible to totally enjoy your RV lifestyle! Now let's take look at several different types of rv decks like square-shaped designs, multi-leveled ones or those in wrap-around shapes that offer even more interesting options when planning out a recreational vehicle getaway.
Simple Elevated Deck
Floating decks can provide an added layer of outdoor space for your RV, and it's possible to construct a durable platform with the use of ready made concrete deck blocks plus two-by-fours. Concrete blocks that are both strong yet small in size make great foundations for these low ground level varieties too. Pallet construction is also feasible as an affordable solution and attractive substitute to concrete piers if you'd like more decorative appeal from your camper's floating deck setup.
Raising wood away from the ground enhances leisure time spent at camp by offering up additional areas where one may relax or enjoy activities outdoors. Truly making your recreational vehicle living experiences unforgettable!
Multi-Level Deck
Multi-level decks are an excellent way to maximize the deck space of a park model camper, providing exciting recreational areas that blend in with the natural surroundings. Different types of multi-level designs can be implemented, such as split and terraced levels connected by stairs, making it easy for one to create their own outdoor area while adding value to their camping experience. With quality materials and safe construction techniques at hand anyone can enjoy a dynamic outdoor living setting tailored specifically for them!
Wrap-Around Deck
A wrap-around deck is an attractive addition to any camper, as it provides an outdoor environment with a unique atmosphere. This type of RV deck features extra storage space underneath the RV which would be ideal for those who own toy haulers.
Relaxing on your encircling deck offers you time in nature's beauty and the ease of being by your vehicle home at once. Giving both comfortability and style concurrently so that items can easily be placed beneath your motorhome without hassle. With loads of space AND storage, this is a very nice deck idea.
Portable and Movable Camper Decks
If you want to spruce up your outdoor space with a portable and adjustable deck, then we have the perfect solutions for you. You can choose between pallet-based decks, modular sections or even foldable designs that allow easy transportation and assembly. With these RV deck ideas, camping will be an upgraded experience as they enable flexibility when it comes to relocating them around different areas. Let's take a look at some of our favorite portable RV deck ideas.
Toy Hauler Deck
Many toy haulers today use the tailgate as a deck as well as a ramp. The rig features cables that clip to the outer corners of the platform, holding it in place horizontally. Both travel trailer and fifth wheel toy haulers use this system. There are also railings that can be put in place to keep thinks safe.
Pallet-Based Deck
Building a budget-friendly deck for your camper is easy and inexpensive with pallets as the foundation. These free or low cost options can be found on second-hand markets like Facebook Marketplace, making this an eco-conscious decision. All you have to do is lay down the pallets on the ground, followed by screwing them together, and then covering them in 3/4 inch plywood and a rug. Simplicity at its finest!
Modular Deck Sections
Portable decks are an incredibly useful invention for any camper or home, providing numerous advantages such as easy assembly and enhanced storage. With the right amount of forethought and appropriate materials to construct it with, you can design a beautiful yet practical deck that is easily transportable.
Modular sections offer effortless construction capabilities while also being very eco-friendly too! By following basic safety guidelines alongside your creative ideas, constructing this sort of portable deck will result in one that meets all your needs.
Foldable Deck Design
Foldable deck designs provide many benefits, such as portability, expandability and versatility. According to SunriseDecks.com, portable decks come in a variety of sizes and shapes and can be custom made to your requirements. Constructed using materials like wood, metal or plastic to ensure it is adequately supported and secure when in use.
This type of design allows you to enjoy the outdoors while on the go. They can be set at the height of the doorway so there is no step in or out. Then there is a set of fold down stairs leading to the deck. Then just fold up your deck quickly for easy transportation and storage when not being used!
To these great features, collapsible decks tend also offer remarkable durability which helps them stand out amongst other types of decks made from different material options available today. With a foldable platform at hand people will be able get outside more frequently without having any worries about taking their setup apart after enjoying nature's beauty
Covered Camper Deck Ideas
No need for the elements to ruin your fun at your seasonal campsite. Choose from many covered deck ideas that provide shelter, shade and protection from rain, wind and sun when it comes to protecting a camper's outdoor living area. From simple canopy covers up until more intricate permanent roof structures.
There are plenty of options available in order to make an enjoyable environment regardless of what weather conditions may come about.
Now let us take a look into various types of stylishly shielded decks for campers so you can maximize this space no matter where you go camping!
Canopy Cover
A canopy is an effective and affordable way to provide a shaded area for your camper deck. The cover creates shelter from the sun, rain, and other elements so you can enjoy being outdoors worry-free. Not only does it protect against too much light by blocking glare but it also protects skin from UV rays while providing defense for furniture or surfaces on the deck.
To ensure style with perfect fit select a matching size that coincides nicely with design of your camper's outdoor space.
Retractable Awning
A retractable awning is an incredibly practical type of covering that can be opened and shut when required. It's usually produced from tough canvas or vinyl, installed onto a resilient frame for easy expansion and contraction.
Adding a retractable canopy to your camper deck offers the following advantages: flexibility in determining how much sun comes through, protection against wind and rain, various options such as manual control, electric motorized operation or even by remote-control. All these factors make it possible to find just the right one tailored for your requirements on this kind of deck setup.
There are multiple benefits associated with using this sort of shield over decks built into camping vehicles which includes being able to customize exposure times depending on weather conditions while also providing reliable shelter during rainshowers alongside its available automated controls – making life easier!
Permanent Roof Structure
Creating a frame for the roof that is secured to the camper deck can produce an attractive, permanent structure providing protection against wind and rain. It will also expand outdoor living space by allowing customizability with accessories which increases its functionality and versatility. The installation of this new feature makes it perfect for all kinds of weather conditions, creating added pleasure when using your camping area or patio.
Unique Camper Deck Features
In order to make your camper deck stand out from the rest, consider adding some unique features. These can be tailored to increase both style and functionality in your outdoor living space. Storage solutions integrated into the design as well as special lighting elements will surely enhance it greatly. Even some design built into the railing as seen here will enhance the look and feel.
Built-In Seating
Having integrated seating in the layout of your camper deck is a great idea for space-saving, providing extra room to relax and appreciate nature. This kind of custom fitting can easily blend into any style you desire, making it easier to accommodate more people with a hot tub area included so everyone could have fun at once!
Built-in benches will definitely increase overall pleasure while out camping which makes this an ideal choice when considering how best to use up available open space on your camper.
Integrated Storage Solutions
Making the most of your camper deck space is easy with integrated storage solutions such as secret compartments and under-deck areas. Not only are these efficient ways to maximize useable area, but they also give you a variety of options for packing up all your camping necessities.
Options like built in cabinets, drawers and shelves provide ample room to store items from outdoor furniture through to necessary gear needed on an excursion into nature.
Custom Lighting
Adding ambiance and functionality to your camper's deck can be done with custom lighting options. String lights, solar-powered lights, and LED accents all help create a special atmosphere for nighttime activities on the deck.
Not only will these decorative elements contribute to style but they also add warmth that you won't want to miss out on! With this selection of lighting arrangements, it'll have never been easier or more fun than creating an enjoyable environment outdoors.
Eco-Friendly Camper Deck Materials
When creating a sustainable outdoor living space, camper deck materials that are environmentally friendly can minimize one's impact on the environment. Composite decking, salvaged wood and rubber tiles all come with great aesthetic qualities while being beneficial to reducing waste and promoting sustainability.
Understanding how these eco-friendly alternatives will enhance your experience in a green manner is key when looking for options to construct or refurbish an existing space around you.
Composite Decking
Choosing composite deck boards is a great way to go for creating an eco-friendly and low maintenance camper deck. This material, which comprises of wood fiber's, plastic sawdust as well as other recycled materials will give you high levels of resistance against rot and mold while also being slip proof too.
Installing the board accordingly with instructions provided by manufacturers can help to make this process much simpler than initially anticipated. Cleaning this type of outdoor surface should not be overlooked either – it's easily done due to its durability!
Reclaimed Wood
Creating an eco-friendly and original outdoor living space can be achieved by using reclaimed wood for the deck of your camper. This type of wood is sourced from older constructions and creatively employed in new works such as furniture, flooring or other pieces that enhance any area's atmosphere. With this kind of timber, you will have a distinctive and sustainable environment to enjoy!
Rubber Tiles
Rubber tiles made of recycled materials are a great option for creating an eco-friendly outdoor living space. They have many benefits such as being durable, versatile and insulative to make them ideal for camper decks. The installation process is relatively easy since they come with adhesive or interlocking edges, requiring minimal maintenance Too!
This makes rubber tiles the perfect solution if you want to create comfortable and environmentally friendly decking in your recreational vehicle's outside area. And don't forget that these products are also non-slip giving Peace of mind when using it outdoors during any season!
DIY Camper Deck Building Tips
Creating an outdoor living space with a camper deck can be incredibly rewarding and enjoyable, but there are essential tips to consider for success. Preparation of the area prior to construction is necessary, as well as selecting appropriate lumber that will ensure safety during building process. Following these DIY instructions in constructing your own camper deck will help you create a remarkable leisure space that you'll surely be proud of!
Preparing the Ground
When constructing a camper deck, it is important to properly prepare the ground for optimal results. Start off by measuring and marking out the area that will be occupied by your new living space. Next, remove all topsoil and vegetation from within these boundaries.
Finally, compact the soil below so as to create a strong foundation on which you can build your outdoor haven securely – providing yourself with an enjoyable spot in nature's backyard!
Selecting Lumber
When it comes to building a camper deck, choosing the right type of lumber is essential. It affects both its cost and longevity, as well as impacting the environment. One should bear in mind factors like weight, strength and eco-friendliness when deciding on what kind of wood to use for their outdoor structure.
Hardwood provides added robustness but can be costly while softwood offers more affordability without sacrificing quality. In between is pressure treaded wood, which is pine that is treated to withstand weathering much longer. Picking an appropriate option will ensure that your constructed deck stands up strong against time's weathering effects!
RELATED ARTICLES
Safety Considerations
Having a secure camper deck is extremely essential. Make sure to follow the local building regulations so that your structure fulfills all safety protocols and provides assurance of its strength.
Install guard railing when required in order to provide extra stability, as well as using appropriate screws or anchors for reinforcement purposes.
By following these precautions, you can have an enjoyable yet safe experience with your family on this setup.
Summary
Creating a camper deck that reflects your style and meets your needs can be an exhilarating way to improve your outdoor living space for improved camping experiences. With numerous design possibilities, durable materials designed with sustainability in mind, as well as do-it-yourself construction guidelines at hand.
Now is the ideal time to devise a plan of action towards making this goal achievable. Why not start crafting out details on how you could make something unique right away? You're sure to benefit from having a special and functional spot outdoors when it's time set off!
Frequently Asked Questions
Can you add a deck to a camper?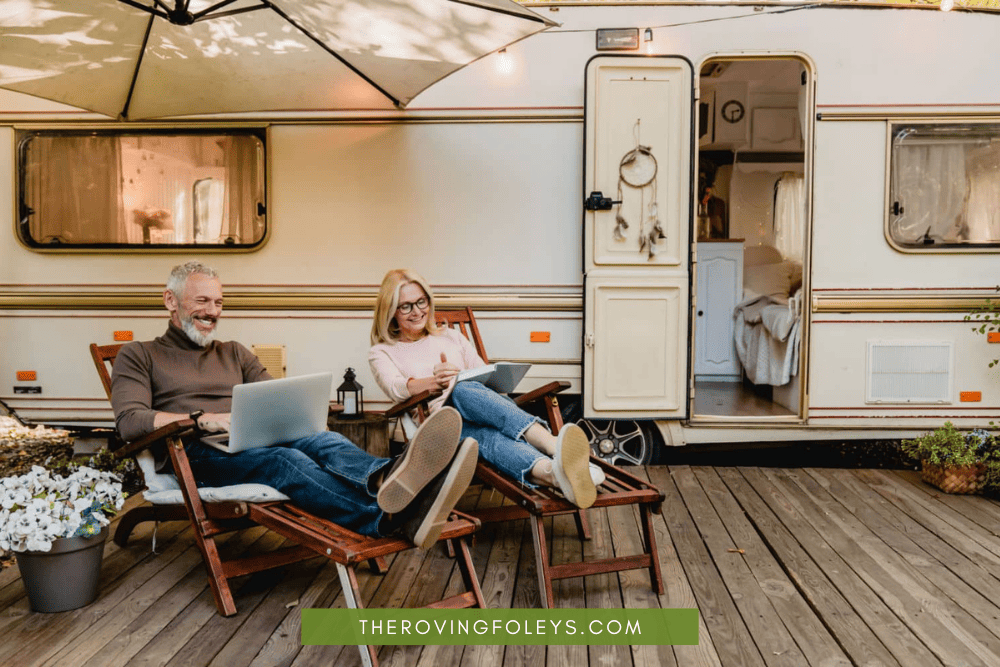 It is simple to incorporate a deck onto an RV or camper with the addition of stairs and a platform. These will allow for easy access, as well as parking next to it so that you can easily hop up on your newly constructed deck. Depending on weather you have a permanent or seasonal site, you can build something heavy and sturdy, or maybe lighter and portable.
Always check with the campground to make sure there is no issue first.
How to decorate an RV deck?
Make your RV deck a livelier place to be by creating an outdoor space of your own. You can include things like camping chairs, step covers for safety and decorative garden flags and pillows that are suitable for the weather. Put up string lights to give the area ambiance or add plants around it with fencing if desired.
Let those creative juices flow! Whether you want just basic decor items or something more personalized, this will surely bring some energy into your RV deck experience.
How to build a portable deck?
Designing a portable deck calls for considerable consideration and preparation. Start by making a draft of the deck, considering its size as well as shape to where you intend on constructing it. Collect any needed components like wood, screws or sealant before moving onto building an underlying support structure so that your movable platform remains sturdy.
Once all planks have been correctly installed with fasteners secure them tightly together and protect with additional weatherproof coatings such as sealants for added durability over time. Make sure to include some RV steps to manage height differences from site to site.
What are some creative ideas for elevated camper decks?
Create an outdoor living oasis with elevated camper decks – choose from simple square, multi-level, and wrap-around designs for a functional and unique experience.
Simple square designs provide a straightforward and efficient way to maximize the space available. Multi-level designs offer a more complex and creative way to utilize the area, while wrap-around designs provide a unique and eye-catching look.
What are some atteco-friendly materials I can use for my camper deck?
For a camper deck that is friendly to the environment, composite decking, reclaimed wood or rubber tiles are all excellent materials. They can last for many years and require minimal maintenance so you won't have to worry about upkeep on your decks.
These resources also offer great protection against outdoor elements as well making them an ideal option when it comes to building a long-lasting eco-friendly deckscape.