As time has gone by in the camping world, RV's have gotten bigger and bigger. As people look to bring more amenities to their camping experience as well as some of the larger toys, the boundaries of what you can carry have been pushed further and further. But as that has been happening, there has been an undercurrent of people who want to get back to a simpler, basic way of camping.
This can be seen in the very popular "van life" culture and has also spurred a renewed interest in a camping classic- the teardrop camper.
How Much Is A Teardrop Camper?
The general pricing for teardrop campers goes as follows:
Entry Level: $7,000-$10,000 -no amenities, just a bed on wheels
Mid-Range: $10,000- 20,000- basic amenities like a kitchen area
Luxury Range: $20,000 and up- high end amenities, off road etc
What Is A Teardrop Camper?
A teardrop camper is typically a small, lightweight travel trailer that you can tow behind your car. They are usually under 10 feet long and 5 feet wide (although many larger models have come out recently) and have a very aerodynamic design that helps them cut through the wind while you are driving.
They got their name from their traditional teardrop shape which makes them more aerodynamic and easier to tow. Teardrop campers were popular in the 1930s and 1940s but then fell out of favor as people replaced them with larger RVs and travel trailers. As modern amenities have been adapted, teardrops have become a very hot subniche in recent years.
They are a perfect step up from tent camping for those who prefer an enclosed space with a hard roof.
Example Prices Of Teardrop Campers
There are always new trends emerging in the RV industry. This is true of teardrop campers as well. As more and more people buy these rigs, they tend to look for more and more amenities. Here are a few of the current trends, and some of the models that answer these requirements.
Larger And More Luxurious Models
In recent years, we have seen a trend towards larger and more luxurious teardrop campers. This is likely due to the fact that more people are discovering the many benefits of these unique trailers.
As demand increases, manufacturers are responding by offering more models with all sorts of features and amenities. Luxury teardrop campers can include everything from air conditioning and heat to slide-outs and rooftop tents. Extra storage space is always a big seller and solar panel systems are usually included or can be added. Many manufacturers will offer a base model and allow you to add the things you want.
If you are looking for a more luxurious teardrop camper, you will find that there are many great options available. However, be prepared to pay a bit more for these high-end models. Here are a few of the best teardrop campers for folks wanting a higher end unit.
These Little Guy trailers are absolutely packed with amenities. air conditioner, bathrooms, propane, water tanks, etc. All of the perks of a larger RV in a 3000 lb package. It also has a queen bed.
This rig is designed as an extreme off road trailer. It features a full outdoor kitchen, optional A/C, roof rack for a roof tent, and rugged off road design.
NuCamp makes a line of teardrops including this 21ft, fully equipped beauty. It has a full interior kitchen and bathroom, as well as solar power and a full water/ sewer service. It also features a convertible dinette for extra sleeping area. Total glamping with all the amenities.
Off-Road Capable Models
As more people explore the great outdoors, we are also seeing a trend towards more off-road capable teardrop campers. This includes trailers with off road tires and suspension systems. These will tend to be small campers with really beefy suspensions and tires.
If you are looking to take your teardrop camping off the beaten path, there are many great options available. These off-road models will allow you to explore places that other campers can't reach.
Designed by aerospace engineers, this is an absolute beast of a trailer. It's designed for serious off-roading and features a full kitchen in back, 19 inches of clearance and a fully independent suspension.
The DoDrop Alpha is a very basic off road trailer. It starts at $24,000 and can be upgraded from there to include a ton of different accessories. You can build exactly what you want. It is extremely rugged and will go wherever you want it to.
Timberleaf Kestrel Off Road start at only $11, 000. This is pretty much just a bed. It offers 23 inches of ground clearance, and it's fenders double as a work surface. They are even heavy enough to stand on. There are 3 different models to choose from, with a ton of choices for fitting.
The Atlas One looks more like a military vehicle than an RV. It is bristling with toys all over the body, but as of now we are not sure when you will be able to order one. The $13000 starting price is from their own Facebook page, but it was posted Jan of 2021, so my guess is that the new price will be substantially higher. 
*UPDATE: As of Juy 2023, there is no new news on this trailer, so we are doubtful it will ever get made. DANG IT!
Retro Models
While teardrop campers are kind of retro anyway, there is definitely a trend toward very retro styling. Getting that 1940's vibe while camping just adds to the fun, right.
This simply designed teardrop is really nice to look at. It features a cool retro feel, wood interiors and rear kitchen area, and can be outfitted to suit your own style.
These Amish built trailers are really head turners. A Classic Retro, or Woody styling to choose from, they are packed with modern conveniences, like bathrooms, kitchens, and Bluetooth enabled sound systems. They are also wider than others in their class offering tons of interior space.
One of the most basic sleepers on the market. A bed on wheels. This unit is great for camping, car shows, or getting back to your classic roots. The teardrop design is great for airflow. All the classic sleepers do not have a galley. Simply and simple sleeper. 
Futuristic Models
Yes, even the teardrop trailer is getting a makeover. While retro is in, there are some who are looking to the future with their designs. These new designs are really something to behold. Sleek, cool, futuristic designs for those that want to leave tradition behind.
For those that drive EV's (electric vehicles) this is the teardrop for you. The entire deck holds a large bank of batteries designed to re-charge your car after towing, (or during if you run out of charge.) How's that for great gas mileage? Loads of options to customize just the rig for you. That is all the good news. The bad? As of July, 2023, only a prototype has been created. They are taking orders though…
Colorado makes a line of really cool and unique campers, including one with bunk beds if you need extra sleeping space.
This is a very basic sleeping trailer, but with some very interesting design touches. Super aerodynamic and lightweight (640 lbs) this can be towed by ANYTHING! Upgraded suspension for off roading.  
Classic Airstream stainless steel wraps this rig, but that is where the similarities end. A complete departure from the typical egg shape, and really top end features make this a truly unique Airstream.
This is an Aussie RV, built to take on the Outback. It looks like something you would drag behind a bicycle but packs in some pretty awesome features, like the truly unique awning that wraps all the way around to back, covering the kitchen area.
It also comes with 200w of solar power, and a water heater and tank to supply the included shower tent. Now, if we can just get them to the USA!
Expandable Designs
As the desire for smaller teardrops trailers meets the demand for all things larger, the divide between pop-ups and teardrops has gotten smaller. Many new teardrop campers now have pop-ups, slide outs etc. to add space.
One of the biggest downsides of teardrops in general, is the lack of room to stand up inside. This gives you room to use the indoor sink, or prepare food. There is an optional tent that can be added to the rear of the unit giving even more space.
The Whale -NO PRICE
While this is only a concept vehicle, it does show a clear direction that smaller RV's are taking to add space while keeping inside a small package. I am not quite sure what this is…but…WOW!
Hunter Nature Raptor Starting @ $44,000
Another foreign creation (Turkey this time) this trailer extends out to look almost like a fifth wheel, adding a tremendous amount of space. It features a kitchenette, and bathroom inside, as well as skylights and really attractive interiors.
The Alto by Safari Condo is a truly revolutionary design. It is a traditional teardrop but the entire roof swivels upward, adding a ton of headroom inside the rig. The revealed sides are ALL glass, so the light and views out are unlike anything before it.
There is an interior kitchen and bathroom, and a couple of different models to choose from. This is a Canadian company with no dealerships in the USA, but you can order direct from the factory. Figure starting at @ $40,000
Earth Traveler set out to build the worlds lightest RV. They succeeded. Starting at just 250lbs, the T250 is only about $25,000 base. The rig is all built from carbon fiber, but that is not the cool part. This entire rig pops out in ALL directions.
There are 2 large pop-ups in the roof, nearly the whole thing, and both side walls flip down creating decks that are tented on both sides. There are no bathrooms or kitchens, but they do have a 5 gallon water system.
How Much Do Off-Road Teardrop Campers Cost?
As with any item, there are a number of factors that go into the price. Off Road campers have to be built to withstand a beating while also maintaining as light a profile as possible. This means high quality materials. Independent suspensions, stronger walls and frames, etc.
There is also the market. The demand for these beefier trailers, while growing, is still relatively small so supply and demand factors also come into play.
Off Road teardrop camper prices will range from sub $10,000 rigs which tend not to be so much RV's as rugged trailers with roof top tents, up to some of the more luxurious rigs that offer off road packages. These can be $50,000 or more.
Pop Up Campers VS Teardrop Trailers
As a small entry level class of travel trailer, teardrops will naturally draw comparisons with another classic type of trailer, the pop up. Both have their pros and cons, but in general, teardrops offer a few key advantages.
First, teardrop trailers are easier to set up. Unlike popup campers which you have to fold out when you get to your campsite, teardrops are less work to set up. This is because you usually have to put the popup camper on its stands and then set up the roof and walls. This can be a challenge if you are by yourself and is one of the reasons that teardrop campers are usually best for couples or small families. They are pretty much, park and go.
Second, teardrops offer more protection from the elements. Popups have fabric walls which can provide some insulation but are not nearly as good as the solid walls of a teardrop. This means that you will be much warmer in a teardrop in cold weather and won't have to worry about things like rain or wind getting in.
Third, teardrops just look cooler. There is no denying that they have a very cool, retro style that is hard to beat. As such, teardrops have become their own "ultra-cool" subculture and there are clubs and rallies held exclusively for owners of this type of RV. If you want to turn heads when you pull up to your campsite, a teardrop is the way to go.
What Are The Disadvantages Of Teardrop Campers?
Of course, no type of camping trailer is perfect and teardrops do have a few drawbacks that you should be aware of before you make your purchase.
First, teardrops can be more expensive than popups. This is because they are usually better made with higher quality materials and have more features. You can find some very cheap teardrops on the used market, but in general, they will cost more than a popup of similar size.
Second, teardrops tend to offer less sleeping room than pop-ups which typically have the 2 "wing beds, sleeping 4, and some type of convertible arrangement inside which will hold 1 or two more people. Some of todays newer teardrops are combatting this shortcoming by offering rooftop tents.
Third, teardrops can be difficult to find parts for. Because they are not as popular as some of the other types of campers, it can be hard to find replacement parts if something breaks. This is something to keep in mind if you are planning on buying an older used teardrop camper.
Why Do People Love Teardrop Campers?
There are about as many reasons that RV owners love teardrop campers as there are different teardrops. They are small, lightweight and easy to get in and out of campgrounds. They have always been cool, but in recent years have become VERY cool. They also allow full amenity camping while still staying minimal.
Many of these companies also offer base models with loads of amenities, so you can build your own custom trailer.
Here are a few of the top reasons that people love their teardrop rvs.
1. Lightweight- Take Them Anywhere
One of the best things about teardrop campers is that they are very lightweight. This means that you can take them anywhere that you can tow a trailer. This includes all types of terrain from dirt roads to sandy beaches. You will also have no problem finding a place to park as most campgrounds and RV parks have spots that can accommodate trailers.
As small, lightweight trailers, teardrops are easy to tow with a much smaller vehicle than larger rigs. Depending on the size of your car, SUV or truck, there is probably a teardrop trailer that you can pull. Small teardrop campers can be towed by the smallest of vehicles.
2. Great Amenities In A Small Package
Another great thing about teardrop campers is that they offer a lot of amenities in a small package. This means that you can have all the comforts of home without having to tow a large RV.
Most teardrops come with a kitchen area that includes a sink, fridge and stove. This allows you to prepare meals at your campsite without having to leave to go to a restaurant.
Some teardrops also come with a bathroom. This can be a great feature if you are camping in an area without easy access to showers or bathrooms.
Many of these trailers also come with expandable tents, or even slide-outs that will increase your living space dramatically.
3. Simple To Own And Maintain
Teardrop campers are also very simple to own and maintain. This is because they don't have all the bells and whistles that come with larger RVs. There are no complicated systems to learn and you won't have to worry about expensive repairs.
You will also find that most teardrop campers can be easily stored in your garage or driveway. This is not the case with larger RVs that often have to be stored at a campground or storage facility.
4. Teardrop Culture
As mentioned before, teardrop campers have their own "ultra-cool" subculture. This is because they are such unique and interesting trailers. If you own a teardrop, you will find that you quickly become a part of this close-knit community.
There are many rallies and gatherings that are held throughout the year where teardrop owners can get together and share their love of these unique trailers. They are usually smaller "boutique affairs and can be loads of fun. Here are just a few of the may gatherings each year for teardrop owners.
Tear Up The Adarondacks
Tearstock
uCamp by NuCamp
Tin Can Tourist Rallies
Are There Teardrop Campers With Bathrooms?
Absolutely, there are! Many models offer interior bathrooms. There are some that offer a small portable toilet. Many have sinks and showers inside, or tent showers that go on the exterior. Obviously amenities like a wet bath will increase the price of the camper.
Teardrop Camper Pricing Considerations
When considering how much you will pay for a teardrop camper, it is important to consider what you will be using it for. If you plan on using your camper for long trips or extended stays, you may want to consider a more expensive model that has more amenities, like built in kitchens and bathrooms.
If you only plan on using your camper for short trips or weekends, you can probably get away with a less expensive model where you pack more of your cooking equipment to bring along.
What are the best teardrop camper brands?
While opinions will vary, we have listed here, what we feel are the top 10 teardrop camper manufacturers. But there were so many great units out there, that we also listed another few honorable mentions for you to look at as well. Enjoy!
How Much Do Teardrop Campers for Motorcycles Cost?
Teardrops that are designed for motorcycles can start under $8000, but many will run between $10,000 and $15,000. As a general rule, you want to choose a model that weighs less than 1/2 the weight of your motorcycle. Also it is generally advised not to tow with an engine less than 1000cc.
Some of the more lightweight models are the Easy Rider Teardrop Camper (which I am not sure is still being manufactured), the Little Guy MyPod, and the Vintage Overland Tuco.
How Much Does it Cost to Build a Teardrop Camper?
With the increased popularity and related price increases of teardrops these days, many people choose to build one themselves. There are quite a few YouTube videos that show rigs being built from scratch, but you can also buy plans, and/or buy a kit to build your very own teardrop.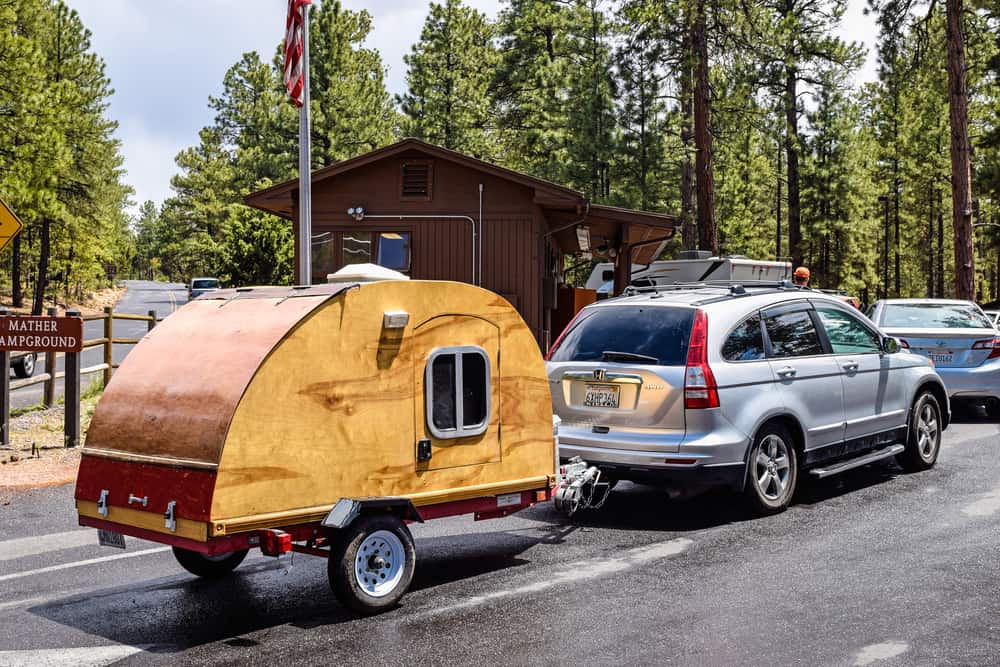 How Much Do Teardrop Trailer Plans Cost?
Camper plans are not expensive at all. There are several even on Amazon. It is of course the materials that you will need that will cost money, so we suggest that you have a very detailed plan laid out with prices for each piece of the build.
How Much Is A Teardrop Camper Kit?
DIY Teardrop Camper kits come in a variety of forms, from just wiring harnesses for a few hundred dollars, to kits that include all of the necessary hardware and plans to build the wooden parts, to kits that include everything from hardware to CNC cut wood panels and millwork. These kits can cost upwards of $10,000 depending on what you include.
With one of these kits, it can be pretty easy to build your own teardrop camper.
Do Teardrop Campers Hold Their Value?
As a general rule, teardrop campers so hold value better than similarly priced pop-up's or travel trailers. This is especially true due to the recent uptick in their popularity. They are harder to find, and command a stronger price used.
How Much Does a Teardrop Camper Cost to Rent?
Teardrop campers rent for between $50 and $100 per night. The final cost will depend on location, availability of styles, and of course what type and features you desire. We always recommend renting an RV of the type you wish to buy before purchasing and this is no different.
Related Articles
How Much Does it Cost to Insure a Teardrop Camper?
Teardrop Campers do not fall into insurance regulations in most states, therefore you do not need to carry insurance in these states. However, if you do wish to cover your trailer, the cost can start as low as @ $200 per year.
How Much Does it Cost to Register a Teardrop Camper?
The cost to register a teardrop camper will again vary depending on where you live and the value of your rig. We suggest that you check with your local DMV for specific fees in your area.
How Much Does it Cost to Store a Teardrop Camper?
The cost to store a teardrop camper will depend on the size of your rig and the type of storage facility you choose. It will also depend on the length of time you need to store your camper. Many people opt to store their teardrop in their garage or driveway, while others use self-storage units. One of the nice features of teardrops is that they can usually be stored in the garage, so if you live in one of THOSE HOA's, you are covered.
As you can see, the cost of a teardrop camper can vary depending on a number of factors. We hope that this article has given you a better understanding of the cost of owning and operating one of these unique campers.