One of the biggest reasons that we took to the road was to live an outdoor life. We see so many people pull into an RV park, hook up the rig, and then they are never seen again. It is true that today's RV's are pretty luxurious- you really don't have to leave. But for us, we want to be outside, and with a little effort, you can make the great outdoors just as comfortable as the rig! It has taken some time, trial and error, but we have come across 3 "must-haves" for making that outdoor space livable.
Outdoor Rugs
After a few weeks of RVing, dirt getting tracked in, and me cleaning all day long, we saw a neighbor with the perfect setup and I knew I had to have it – outdoor rugs!  I know I couldn't believe I hadn't thought of it before, but I'm a little slow on the uptake sometimes.  We marched straight over and asked them about their rugs and where did they get them.  "Amazon' they said.  I couldn't believe it, we sell on Amazon, how did we not think about looking there.
Frank jumped on Amazon and began to search for outdoor rugs that would work for us.   We have a 38ft 5th wheel so we need something big.  We ended up getting a large and a smaller rug, they work so well.  We can't use both rugs all of the time because the sites aren't always big enough, but we can always use just one.  We've had these rugs for almost 3 years now, they have made it through wind, pools of water, clumps of dirt and they still look great.
We used these in Utah where the clay can get really dusty and they worked brilliantly.  We made everyone take their shoes off before entering the rug and we would blow the dust off several times per day to keep them clean and we kept most of the dust out that way.
RV Awning Shade
One of the reasons we chose this life is to get outside as much as we can.  However, that can be difficult when the sun is blasting down on you while you're trying to eat lunch, read a book, or get some online work accomplished.  For some reason, we always seem to get sites that face west. So that afternoon sun can chase you right back into the AC. Once again hubby headed online to research something that would work for us and give us some much-needed shade.
He found the Vista Shade on Amazon.  I LOVE this shade, I consider it to be one of the best purchases we made, if not the best.  Seriously.  This awning shade is magic, it not only blocks the sun from coming in, it also provides an extra room outside.  It gives you privacy when you have too close neighbors, the kids can do their school outside and we can move our office outdoors.  We get so many compliments from other campers because they too have the same issues we had.
Frank loves the fact that it is so easy to put up and down.  There have been times when the wind suddenly picks up and the awning has to come in before it flies away. In a matter of seconds, he can unzip the shade and bring the awning in.  This was our best 'luxury' necessity that we made.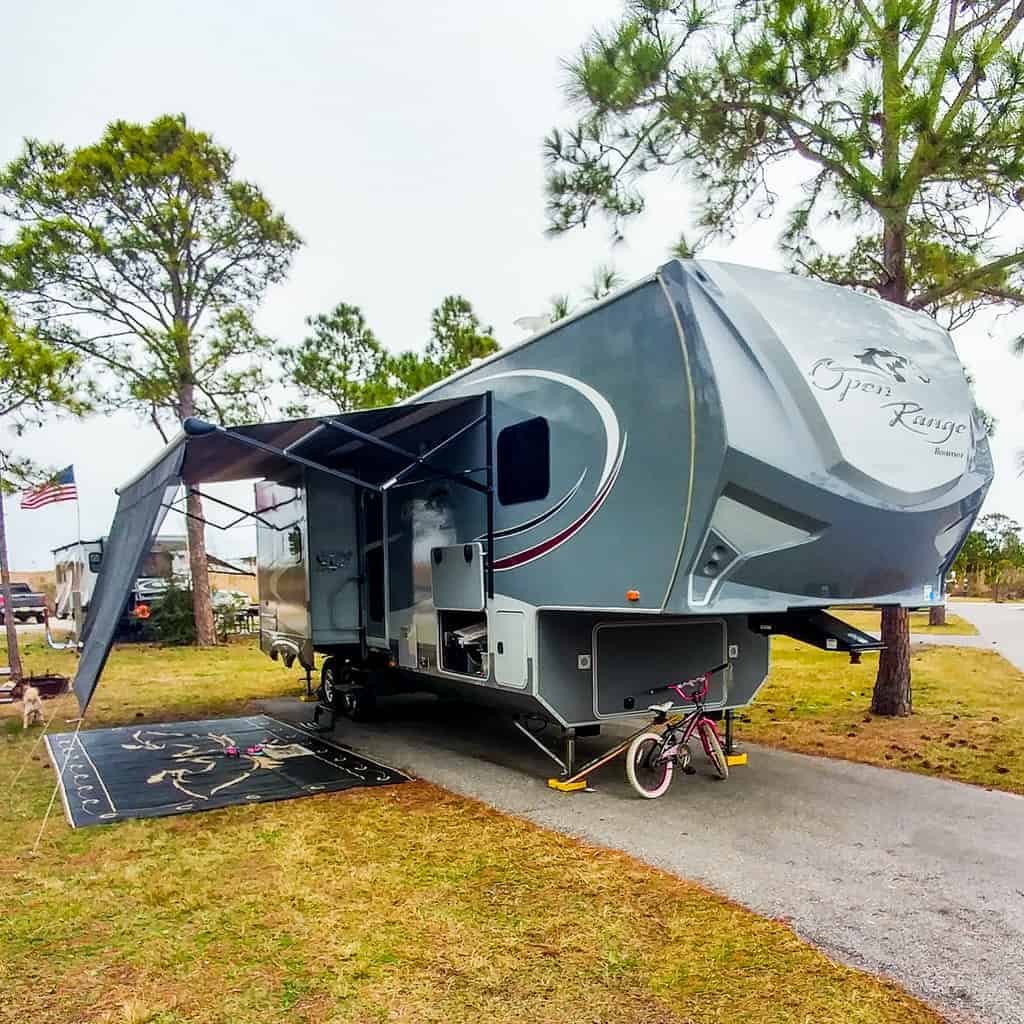 Pop-up Screen Room
Not all of the time, but sometimes we are lucky enough to stay at large campsites where you can really spread out and take advantage.  As much as I love our awning shade, it doesn't keep out the mosquitoes.  We purchased a Coleman extra outdoor room so that we could continue to enjoy our outdoor time.  This gave us great space, protection from the mosquitoes, and we used it for a good year until someone (cough hubby) opened the awning too close to it and tore it's top off.
Yikes!
We decided that although we wanted a new one, we didn't want the same one.  If you're a now and again camper, it might not matter to you, but for us, it was a bit of a pain to take down and put up.  We wanted something that could go up and down very quickly.  We found the Coleman Instant Screenhouse and we absolutely love it.
Once you take it out of its packaging, it will 'pop-up' in a matter of seconds and taking it down is the same way.  There have been times where it's been left outside during a wind storm and has so far it has survived.  We use it as a stand-alone sometimes, or we'll use it to cover a picnic table.  We've seen people set one up for their animals, campers will use it for storage, or a playroom.  There are lots of things it can be used for.
We use ours to eat in usually, we'll set the table up, but we can also fit some comfy chairs in there, so Frank and I will sit in there to relax.  It has a hook so you can hang a light for nighttime.  We love ours and use it as much as we can.  We've had some really spacious boondocking sites recently and so we've been using it a lot.
These three accessories ensure that we spend most of our time outside, as was the plan when we decided to live life on the road.  We eat outside as much as we can, I homeschool outdoors, we cook outside and relax and watch tv outside.  Although these accessories are a luxury, they are also very much a necessity in our lifestyle.
Do you have any items that you cannot do without in your RV life, we'd love to hear about them?
If you're interested in following us along on our travels, you can follow us on Instagram, or on facebook here or come join our facebook group