RV'ers Can Create Beautiful, Organized Space in The RV Bedrooms
Closet bursting at the seams, clothes strewn all over the bed and shoes scattered all over the entire room. Is this your RV bedroom? It used to be mine!
Let's face it, RV bedrooms are not known for their inspired design, large closets and ample storage space! Moving from a regular bedroom into a tiny RV bedroom requires some organizing and de-cluttering on your part, but it can be done.
With a little RV design and storage help, you can make the most of your living space and minimize frustration, and make your RV bedroom feel like an oasis without doing an entire RV remodel!
OR of course, you could head down to Camping World for a new Class A Motor Home. But for today, let's look at enhancing the one you have. Hope you enjoy these great tips for upgrading your RV bedroom.
IF YOU'RE CURIOUS OR IN A HURRY:
This pack of thin but powerful hangers is super popular for fitting more clothes in your camper closet! They are also non slip so nothing falls on the floor! (Is there anything worse than constantly picking clothes up off the floor?) They are one of our must have storage solutions for your camper or travel trailer.
This hanging organizer is the BEST RV BEDROOM accessory for RV owners because it works for so many things! You can store shoes, underwear, toiletries. It works for so many things and it's super sturdy! I have had mine for over 4 years and it's still going strong!
This hanging laundry bag is genius! You don't always have room for a laundry basket in an rv, so this hanging one is perfect. You can hang it on the back of a door, closet, bathroom, really anywhere you can find a space for it. This really helps to keep your clothes off the floor!
I used these vacuum storage bags for switching out clothes from season to season, as well as packing the kids clothes for different ages. Great for getting a lot into a small space.
I'm guessing a haven of messiness is not what you were looking for when you thought about the RV lifestyle. Your RV bedroom should be a place that you can escape to after a strenuous day of hiking to relax.
It should be a place that feels like home, (a smaller home, but still home) But without doing an entire RV bedroom remodel, what can you do to keep things organized? How can you create more space for storage?
So, after years of experience, trial and error, and testing many RV storage solutions, I have found 20 clever ways to organize and beautify your RV bedroom and turn it into a place you will love. These RV bedroom ideas will really help you to maximize space.
We will find the best RV storage spots to create extra space to store your shoes, or hang your jewelry, as well as sharing our best RV under bed storage ideas and the best RV organizational products.
Organizing a small master bedroom is not that hard to do once you have the right accessories.
1. Use Hanging Organizers Where You Can
I have several of these hanging organizers in my RV, I use one in the kitchen for snack overflow, and one in our RV bedroom for socks and underwear. You can hang it on RV bedroom walls, or on the bathroom or closet doors.
This hanging organizer fits so many RV storage needs we have living in a tiny space – toiletries, makeup, baby items. These have lasted me over four years, which I didn't expect for the price.
This was one of those great RV storage ideas and is highly recommended for small spaces. You can use it to store toiletries, underwear, baby clothes and essentials.
2. Get The Best Clothes Hangers For The RV
RV bedroom closets don't hold that many clothes so in order to fit enough clothes for full time living, you need a thin hanger to fit more clothes in. This is one of those simple space saving RV ideas.
Using these hangers, I can fit pants, shirts, and t-shirts in my rv bedroom closet for the season I am in. I pack the rest of my clothes under the bed until I am ready for them.
3. Storage Ideas For RV Closets -Hanging Hamper
One of the big ways to organize your motorhome or travel trailer bedroom is to get all clothes off the floor and into a hamper. In my fifth wheel, I have space to store a collapsible hamper in my closet, which has worked well for over four years!
For those of you who don't have the space in your closet. This hanging hamper is awesome and it gets everything off the floor. Plus it fits into a tight space. When it's laundry time, remove it from the hooks and take it with you.
4. RV Shoe Storage Ideas
When we moved into our RV, I had already purged 95% of my shoe collection (boy was that hard to do)! Yet I still brought a pair of sneakers, casual shoes, flip flops, plus Frank's AND the kids shoes. That's a lot of shoes!!!
You want to have your shoes right? But it's hard to figure out how to store shoes in an RV.
I needed somewhere to fit them all, originally we had them in these plastic bins from Ikea. We kept them outside, underneath the rig. That worked fine but some of my shoes I didn't want to be outside so I purchased this for underneath the bed in the RV bedroom.
For those of you with little space, again these hanging organizers will work perfectly for you, and it gets more stuff off the floor! You can also use command hooks in many places around the RV bedroom walls, or in closets.
5. Jewelry Organizer
One of the ladies favorite RV organization products. If you love jewelry and plan to bring it in the RV with you, this is the perfect storage system for you. It hands from a door, or a hook, or hang it in the camper closet with your clothes.
It comes with 80 pockets so you'll have plenty of room for all your jewelry needs.
6. Under RV Beds Storage Ideas
A full time rving wardrobe will require clothes for all seasons, which will not all fit into the closet. If you need a place to store extra blankets, sleeping bags, or winter clothing, shoes etc, under the RV beds is the perfect storage area. However we still want to keep it organized under there.
These vacuum space saver bags work really well for RV clothes storage, as do these see-through totes. Both are great RV storage space-saving ideas. These work brilliantly for small spaces!
Buying the see-through plastic bins helps me to see what is stored in the box at all times.
7. Camper Clothes Storage Ideas – Organize Your Drawers
Organizing underwear and socks in such a tiny space can be frustrating, but help is here! I found these awesome drawer separators on Amazon and they work beautifully to keep everything in order.
They are one of the best RV space saving items, we use them to organize socks and underwear for the kids.
8. RV Closet Ideas- Genius Accessory Hook
I am convinced this accessory hook was made for people in RVs, it's such a clever way to store bras, belts, and scarves without taking up much room. Heck you could ever store a couple of handbags on here.
This is one of our favorite items to use in the bedroom closets. Also good for any extra wall space you may have.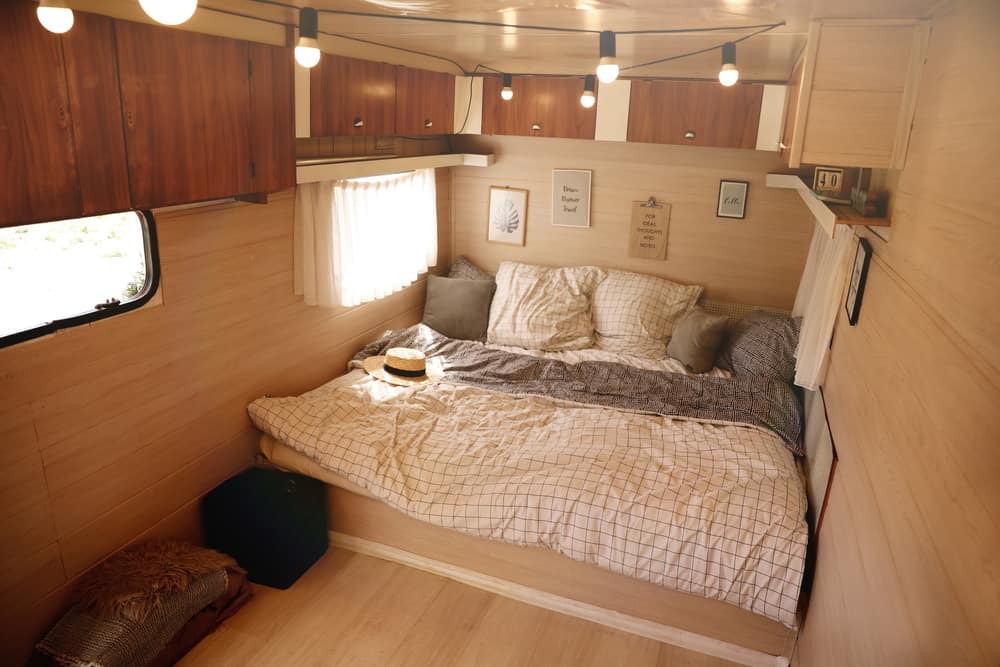 9. RV Organization Accessories – Men's Dresser Organizer
If your husband is anything like mine, he ends up tossing coins on the dresser, his keys (even though we have a key holder in the front of the RV), and his electronics.
Immediately the dresser looks untidy until I clean it up! I bought this organizer for him, it fits nicely on the dresser and can be put in a drawer on RV travel day. Works like a charm.
10. Space Saving Ideas For RV Living- Bedside Storage
If you have a bedside table in your RV, you're one of the lucky ones. Most don't have one, so we have found a brilliant alternative.
Check out this bedside caddy where you can store your phone, tv remote, a book or anything you need close by at night time. You now have easy access to these items, and they are stored neatly out of the way. Make this part of your RV bedding ideas.
11. Organize Your Closet With Drawers
If you lack drawer space, just add some in the closet area. Some extra cubes and drawers will turn that space into an organizational bonanza.
These plastic cubes are inexpensive, easy to install, and modular to fit into just about any space. You can stack or build them into different configurations and get as many drawers as you wish to fit them. They also come in several finishes.
12. Use A Clothes Rod To Hang Wet Clothes In The Shower
Most RV bedrooms are really small, and lack enough hooks for towels etc when you are staying somewhere that has a pool, lake or ocean. So why not use the shower?
A short towel bar hung across the top of the shower stall will allow you ample space to hang up any wet clothes while they dry, and keep your carpets and floors dry.
13. Use Lighting To Create Ambiance
Your RV bedroom should be an oasis for relaxation and intimacy. So why not set the right atmosphere with some beautiful light fixtures?
The right lighting will transform the normally plain bedroom into a relaxing place to let the world fall away. Try some LED lights, or just the right lamps to set the mood for…ya know!
14. Get Blackout Curtains For A Deep Sleep
When you spend any amount of time in nature you will realize that the sun comes up…EARLY! A good set of blackout curtains for the bedroom will be one of your favorite purchases.
This curtain is easy to install and will keep out almost all of that early morning sunlight. Have a nice lie-on. You deserve it.
15. Use Rugs and Throw Pillows
Most RVs are not exactly inspired when it comes to design. They tend to be a bit neutral and bland.
Another thing you can do to convert your plain home on wheels into a personal oasis is to put decorative blankets, rugs and throw pillows in. Set the mood for your relaxation den with some patterns and color.
A rug on the floor or hanging as an accent wall is also a great way to add personality to your room, or cover some boring vinyl plank flooring.
16. Command Hooks
When you live in an RV, command hooks are an absolute MUST! You will find a hundred uses for them everywhere- especially in your bedroom.
From hanging wall decor, to adding hooks to the closet and walls, command hooks are the RVers friend and make for simple DIY projects.
17. Zippered Sheets To Make Life Easier
One of the most frustrating aspects of the RV life is…making the beds. RV mattresses tend to be pushed into corners and walled in. SO getting fitted sheets on and off can be a real pain.
With these zippered sheets, there is a base that goes on and stays on, then the top panel is attached with a zipper. Easy to take off for laundering. These are genius and all the rage with RV owners.
18. Use A Space Heater In Cold Weather
Heating your RV in colder weather can be quite expensive since you pay for propane on your own. It is not part of your hookups at the campground. So rather than running heat all day and night, keep a small space heater in your rig to use at night.
This small ceramic unit is compact, but puts out plenty of heat to keep you comfortable in your RV bedroom.
19. Get A Good Mattress
RV manufacturers are not known for their mattress choices. They are usually pretty cheap and are not conducive to a good night's sleep. But finding a replacement isn't always easy. RV mattresses tend to have their own sizing and it does not always match up to home mattresses.
Enter the Lucid RV mattress. They make mattresses in all of the common RV sizes, and their quality is really great. A new mattress will help ensure you sleep great after a long day at camp and enjoy your home on wheels to the fullest.
20. A Small Fan Does Wonders In Hot Weather
Running the A/C 24/7 in the summer is not a great idea. RV A/C units are small and not really designed to run non stop.
A small fan in the bedroom will help to keep you col in the hot weather and reduce the time your A/C needs to run.
Here are some more ideas for clever RV organizational products that can help you keep your RV bedroom organized. This genius RV storage idea is great for keeping all those sun hats out of your closet.
If you have room in your RV, this is a great way to store blankets that you need close by (if you have the space), plus it makes your room more cozy. This is another great way to store sunglasses, lip balm and other small stuff you need on hand.
When it comes to rv bedroom ideas, you have to be creative and think outside the box! Here is some more inspiration:
If you love reading books, think about investing in a kindle and save on the space. Command hooks are your new best friend, always keep some in the RV.
Clothes are the main factor in cluttering up your RV bedroom, I recommend only keeping out the clothes you are currently wearing and storing the others underneath your bed in vacuum packed storage bags.
MY TOP 10 FAVORITE RV BEDROOM ACCESSORIES:
Pack of thin but powerful hangers
Hanging organizer
Hanging laundry bag
Under Bed Shoe Storage
Jewelry Organizer
Flat Storage Bins
Underwear Drawer Organizers
Hanging RV Hooks
Declutter Your Nightstand With This Organizer
Super Handy Bedside Caddy
Vacuum Storage Bags
Transforming your RV bedroom can be easy and inexpensive without taking on total RV renovations. I hope these RV storage and design ideas will help to ease the clutter in your RV bedroom and transform your master bedroom into a cozy space.
You may also like some of these articles:
10 Clever Ways To Organize Your RV Bedroom