Pinterest has become my go-to place for everything nowadays.  I especially love scrawling through and oohing and aahing over the creative RV decorating ideas (I think every RV owner does this.) I'm in complete and utter awe because I don't have a CREATIVE BONE in my body.
Ask Frank and he'll tell you that he is much more creative than I am, but together we won't be called anytime soon for a HGTV show. I have a friend who has that gene and I love visiting her home because it's so beautiful and inviting. She understands color schemes and knows how to put them together.
Me – NOT SO MUCH!
I always tell her if we decided to settle down in a house again, she has to decorate it for me.
So if you're like me and decorating is not one of your skill sets, these decorating ideas will help to make your RV a little more homey.
Are you ready?
I am going to show you ways that you can easily spruce up your RV with these easy renovation ideas, that will not only fit into your budget, but you will also have fun with the whole experience.
Thankfully in an RV, there is so little room that you don't need very much to make it warm and cozy, a few pillows here and there, some of those beautiful hanging signs and voila, someone like me (and you) can spruce up their RV decor in no time and with little effort.
Now enjoy our RV decorating tips.
Table of Contents
Ways to Make Your RV Decor Feel More Cozy
1. Use A Theme
Many RVers like to decorate using a theme. A theme adds a consistency throughout the RV and gives you a solid palette to work with. Take this simple monochrome theme from Our Van Quest. The basic black and white is elegant and simple, and leaves you with a lovely background to move in any direction as time passes by.
Check out this Patriotic Theme by Madison Avenue Baby. The cushions, window decals and rug give it a comfy picnic feel.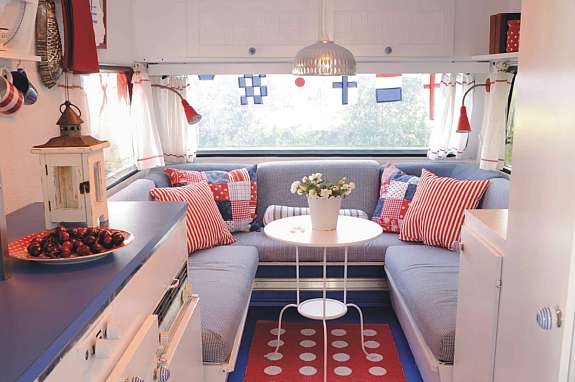 Check out this Earthy Bohemian Theme by RVInspiration. The macramé door curtain and plant hangers along with the fluffy sofa and vintage mirror make quite a statement. I love the use of macramé' as an RV decorating idea. Totally retro and cool.
2. Add Color To Your RV Decor
Color can really make a place come to life. RV manufacturers tend to use fairly simple earthy tones inside, so some bright color can really brighten up your interior. Check out how these bright splashes in this image by The Virtual Campground brighten up the standard, dark RV interior.
3. Use Wall Coverings
There are a ton of wall coverings these days that can completely change the look and feel of your RV. From pegboard, maps, flower-wall, hanging wallpaper, souvenirs or MixTiles. The choices are endless depending on your own designs. Look at how the brick wall paper really brings home this gorgeous farmhouse design by Our Life On Lake Time.
4. Mixtiles
Mixtiles are a way to have your favorite images put on a lightweight foam backer ready to hang. We have made quite a few of these with our family photos from the road. They are super lightweight and have a peel and stick strip to mount easily on RV walls. I am a BIG FAN.
5. Try Some Shelving
Shelves are not only a great way to add storage space, but they can also add detail to your RV decor. Like these butcher block shelves by Must Love Camping. They match the countertops adding to the theme, provide a great spot for both kitchen storage, AND some nice decorations.
Just remember with open shelving, things will need to be stowed for travel days. So we have included a couple of options with bars to hold things in place. Stylish and practical!
6. Repaint
Putting a new coat of paint in an RV can really make a difference. Brighten up that old dated decor with simple paint. Always use a primer first! take this example from a few years ago by Heath and Alyssa. What an incredible job making a HUGE difference.
Dress Up Your RV Bathroom
RV bathrooms tend to be small and cramped. There is not a lot of room for decor. Luckily there are a few good RV decorating hacks for the bathroom that will help make your tiny space more appealing. Wall art, a decorative shower curtain and a few knic knacks can make all the difference.
7. Add Some Fun Wall Word Art
Adding a bit of word art to your bathroom adds some whimsy to the place where you do your business. Make it fun!
8. Decorative Towels
Adding a bit of word art to your bathroom adds some whimsy to the place where you do your business. Make it fun!
RV Decorating Ideas For The Bedroom
9. Simple Headboard Renovation
There are endless RV bedroom decorating ideas out there. Just use your imagination. For instance, you can really change things up in your bedroom by adding a new headboard. Use wallpaper, fabric, or a tapestry to completely change the feel or theme of your room. Then match with RV bedding set and throw pillows. 
Adding a headboard can really make a small space feel larger, and will make a big difference in how the room feels.
Bedroom Lighting Ideas
10. Fairy Lights and Candles
Lighting can make all the difference in your bedroom. Try some of these creative ways to use lighting in your tiny home. Fairy lights and candles will add a fun personal touch.
I found these flameless candles last Christmas, I love 'lighting' them at night, they create a beautiful homey feel. You can set a timer for the certain number of hours you want the candles on, this helps me to never forget to turn them off.
11. Rope Lights
A strand of rope lights, like fairy lights can add ambiance and feeling to your bedroom. Rope lights are a bit sturdier than fairy lights and can give a beautiful effect. Double check the light color to get the effect you desire.
12. Lighting Fixtures
Changing your lighting fixtures to match your theme will be the perfect touch. There are so many available that you can always find just the right ones. Look how the antique fixtures finish off the rustic shiplap wallpaper headboard.
Most RVs these days come with LED lighting that runs off the 12v system, so make sure you match the voltage with new lighting.
RV Kids' Bedroom Decor
13. Shiplap Boys Room
The one thing I don't love about living in an RV is that my 8-year-old daughter doesn't have a room of her own to decorate.
She loves nothing more than to decorate her room with anything she can – pipe cleaners, zoob pieces, artwork but her brother only lets her do so much because well he's a boy and not so fond of ………pink.
She can, however, decorate her bunk any way she wants!. We found these beautiful floral wall decals that she could put on her wall, they transform her side of the room into a little girls room.
So one side of the room we have a pink owl duvet set covered in stuffed animals and on the other side we have a camouflage bedset typical for a 9-year-old boy!
Both kids are happy = a happy mom!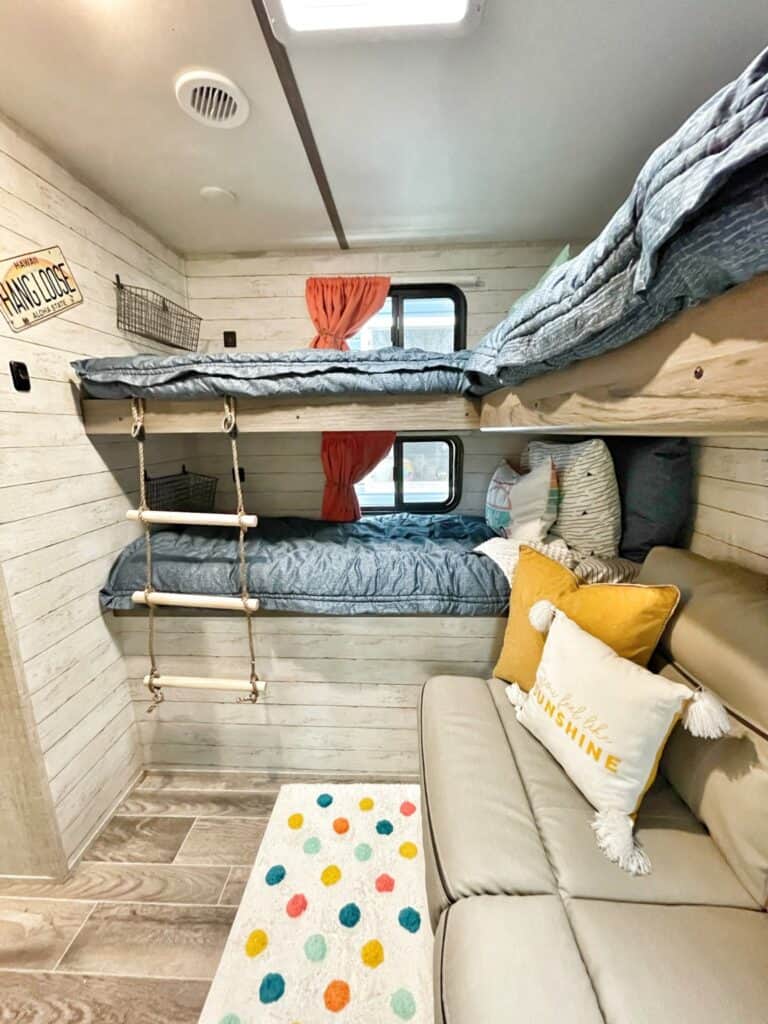 14. Wall Mural Girls Room
Here is a "pretty in pink" desigh by The DIY Mommy. Simple and elegant it is an awesome bunkhouse bedroom for any little girl.
RV Decor Ideas For The Living Room
15. New Furniture
RV Furniture comes in a particular style. You can really change the feel of your RV by switching out some pieces of furniture, or even recovering the RV couch. Check out this interior renovation with new furniture. The table is an Ikea table and each side folds down, so it is very versatile.
Sometimes replacing RV furniture with a piece of regular furniture can make a huge impact.
16. Throw Pillows, Rugs, Blankets
The details are everything in decorating. You can use a fairly basic pallette for your walls, furniture, etc, and then dress it all up with pillows (or pillow covers,) blankets, and rugs. These are also all easily changed to coincide with the seasons, holidays, or just a change in your mood.
Take the decor below from thedekkertrekkers for example. They have painted white on the walls, and an earthy brown on the cabinets and sofa. Then they have explosions of color and style with the finishing touches. It results in a fantastic looking space. I just love the furry throw blanket!
Here is another great example of using detains to brighten up a basic pallette by 188sqft. The renovation is a lovely white paint job with a splash of color in the cabinets. Then pillows, a blanket and rug are used with other details to complete the decor.
17. Window Treatments
Finding a great fabric and creating a new window treatment can really spruce up your space. See how the window coverings make all the difference in an otherwise fairly bland white template. When you hang curtains, you can really go in any direction. If you can sew, this can easily be one of those great diy projects. 
18. Table Runners
A great table runner can really set off your decor. Add a spalsh of color, or tone down a bright setting. Look at this runner by Pier1. It is whimsical, and really makes the table pop.
19. Wall Art/ Hangings
Wall hangings can also do a lot to add flavor to your RV interior. Whether you are into country craft or a more modern touch, you can find wall hangings to accentuate your design. They can also add a nice splash of color if things are a bit monotone.
A lot of RVers have decals on their RV doors, I see them when we are walking by, I love that idea, our door is all window so we can't have one, boo hoo.
20. Camping Coasters
Little things like coasters can brighten up your RV, these can be used indoors or outdoors. I love all the pretty colors in these sets.
21. Seasonal Decor
Setting up your interior decor so that you can shift looks with the seasons or holidays is a great idea. Look for a solid basic theme that allows you to quickly change gears with pillows, blankets, wall art, etc. Check out this colorful "California Dreamin'" style. It just screams of summer. Bright colors are everywhere along with whimsical curtains and throw pillows.
See how easy it is to shift into a festive fall theme with just a few items. Colorful throw pillows, wall decor and some fall leaves add the right touches to give a warm homey autumn ambiance.
22. Floor Pillows
Large floor pillows are an easy way to add homey comfort as well as helping drive a theme, or add a splash of color. They are easy to store out of the way and pull out whenever needed. colorful touches to your scene.
Camper Decor Ideas For The Kitchen
The kitchen if the centerpiect of any RV. There are so many ways to add style and vibrance to your RV kitchen. Here are a few great ideas from the experts.
Depending on the size of your RV kitchen, it's pretty easy to decorate it and make it more homey. A new backsplash is a great way to do this, of course, a camping set of tea towels will always brighten up your kitchen.
Hanging planters in your RV is another great way to make your house on wheels more homey, it's easy enough to take the planters down for travel day.
23. Update The Backsplash
Look at how the simple subway tile heightens this kitchen renovation by Barefoor Detour. It is another simple earthy palette that just jumps right off the page! They did a complete renovation on their camper and recorded each step.
24. Paint Your Kitchen Cabinets
Painting some or all of your kitchen cabinets can have a HUGE impact on your overall design. Lets face it, the RV manufacturers do not exactly put the most exciting finishes on the kitchen cabinets, so we can just do it ourselves, like they did over at maggiesmakeovers. I would NEVER have the guts to paint my cabinets green, but WOW what a statement!
25. Plants and Herbs
Plants add a touch of life (and color) to your decor. They freshen the air, and can be quite handy in the case of herbs. Look at these cool herb garden ideas by a cultivated nest.
26. Magnetic Kitchen Tools
Having a successful adventure in your RV kitchen means having just the right kitchen accessories. Space is limited so you want to make every inch count.
Magnetic kitchen tools can not only be useful, but they can dress up your kitchen walls as well. This kitchen by Go Rving uses several magnetic items all of which help paint a colorful kitchen canvas.
27. Cover Up The Stove/ Oven
Magnetic kitchen toolc can not only be useful, but they can dress up your kitchen walls as well. This kitchen by Go Rving uses several magnetic items all of which help paint a colorful kitchen canvas.
28. Chalkboard Everywhere!
Chalkboard paint or material can be used on the fridge, or on cabinets to give you a fun and stylish way to be creative. This refrigerator by RV Life has chalkboard paint on both top and bottom panels.
29. Paint The Countertops
Older RV's can have some pretty gruesome Formica countertops. However complete replacements can sometimes be hard on the budget. For a lower cost alternative, try paint. Mortons On The Move did this incredible faux marble job over an existing laminate counters. They give instructions on their site.
Outdoor Decor Ideas
Setting up a comfortable and homey outdoor space is so important when RVing. After all, we don't do this to stay inside do we? Here are some great tips and examples of how you can make your outside living space pop.
Your outdoor furniture can make a huge difference when you are trying to decorate your RV and its surroundings to improve your RV life.
There is so much to choose from with lightweight folding chairs and tables. You can take your time and have fun with it. Make your furniture both functional AND beautiful.
Pretty soon people will be walking by to look at YOUR setup. We saw people in an old school bus with hooks they had made hanging off the back of the bus with swing chairs attached. Yes Please!
30. Outdoor Rugs
Outdoor rugs, pound for pound are one of the best RV accessories you can have. They define your outdoor space, add style, and keep your rig clean. This beauty by Amazon adds a southwest feel to this simple outdoor set up.
31. Outdoor Lighting
Great lighting will set the mood for any site setup. From fairy lights to colorful globes, to rope lights, choose the lighting that gives you the ambiance you wish for.
32. Outdoor Sign With Your Name On It
I love taking a walk around the campground and looking at all the RV custom personalized signs that people have outside, they are so cute and give you another opportunity to get the name of whoever lives in the camper. I have a horrible habit of forgetting people's names 5 seconds after they've told me. So them having that sign really helps to meet new people.
33. Welcome Mats
Always make sure to have a nice welcome mat. Not only does it keep dire outside, it sets a lovely tone for your visitors.
34. RV Door Decor
Dress up your door with some awesome RV door decor. A nice message, personalization, or a seasonal wreath can make a huge difference. Just be careful of those pineapples and flamingos! LOL
35. Wind Chimes
WInd chimes are such a nice way to add ambience and personality to your outdoor space. There are so many different designs to choose from. Pick one that suits your style.
This is what can be done IF you have that creative gene! This is a renovated RV tour with Eric and Katie from Mountain Modern Life. Isn't it beautiful???
So now you have dozens of ways to spruce up your home on wheels. Use them to make your own RV feel more homey, minimize clutter, and make everyone in your family a happy camper!
If you're reading this and you have that creative bone in your body, feel free to share your tips and tricks for RV renovation ideas in the comments below……PLEASE.