RVs with bunk space are a huge win for a family who travels. But most manufacturer bunk rooms are plain, boring and unattractive. They tend not to make the best use of space as well. We have searched to find some of the most innovative and eye pleasing camper bunk bed ideas and gathered them for you. We will also show you how YOU can create these unique looks for yourself. You will see how to:
Transform your camper's sleeping arrangements with innovative, functional RV bunk beds that maximize space and functionality.
Maximize storage solutions to create a clutter-free environment in your RV.
Follow safety guidelines for secure and comfortable camping experience!
Not only will we look at great space saving designs, but we will also look at some great options for kids, some pet friendly alternatives, and some fun DIY projects.
Innovative Bunk Bed Designs for Campers
Space is always an overriding concern with any RV living situation. Through the years there have been some very innovative ideas to address this issue.
Both manufacturers and RV owners have come up with unique bunk styles that help create sleeping space while minimizing footprint. From built in bunks, to floating beds, to convertible bunks, lets look at a few of these impressive arrangements.
Built-In Bunk Beds
Many "bunk house" type RV models already exist with bunks built into the floor plan. Some even have bunk rooms with doors that close to give privacy to the inhabitants, and closets/ drawer space to provide storage. Unfortunately, the manufacturers that design these rooms tend to leave them a bit on the stale side so it is up to the new owner to decorate these rooms to fit their taste.
Here are a few design ideas for built in bunks:
This first setup was done to replace the fold out sofa under an existing slideout bunk. The Ikea style beds are turned sideways and stacked inside the slide for travel days. Really cool setup.
Create This Look In Your RV
Create This Bunk Look Yourself
This built in setup by musthavemom incorporates fun camping themed quilts and pillows on both the top and bottom bunks, wire baskets for storage, and a fun rope bunk ladder. These would be any kids dream.
Try This In Your RV
Floating bunk beds are an exciting and unique space-saving solution for your RV bunk, especially when considering a mid bunk room design. Suspended from the ceiling or walls, these beds create the illusion of floating in mid-air, providing an unforgettable sleeping experience.
The Cabbunk hammocks are a great example of these for use in Campervans. They are made in the UK, but can be shipped to the US or purchased by a US retailer like The Swivel Shop.
Another great option to add temporary sleeping space is the Disc-O-Bed. This patented stacking bunk design uses discs in each corner to support the weight of the bunk above.
Use This Set Up In Your RV
Keep in mind, it's important to consider the weight capacity of floating bunk beds to ensure your safety and comfort. With their eye-catching design and efficient use of space, floating bunk beds are perfect additions to any RV adventure.
Convertible Bunk Beds
Versatility is key when it comes to RV living, and that's where convertible bunk beds come in. These practical options can easily transform into various configurations, such as twin over twin bunk beds, triple bunk beds, or even three separate twin beds.
The Murphy bunk bed is an efficient way to maximize space when you have occasional guests. Store-bought options like the Urban Stack Murphy Bunk Bed and Liftco rail kit offer convenience and flexibility. These would be perfect for a renovated toy hauler, or large fifth wheel.
Get This Look For Your Own Rig
Remember to follow safety guidelines, including weight restrictions, guardrails, and proper ventilation, for a secure and comfortable experience with convertible bunk beds.
Themed Bunk Bed Ideas for Kids
For families traveling with children, themed bunk bed ideas can make bedtime both fun and functional. In this section, we'll explore adventure-themed bunks that spark creativity, space-saving designs for siblings, and educational bunks with integrated learning elements.
These exciting bunk bed options will not only provide your kids with a cozy sleeping space, but also keep them engaged and entertained.
Adventure-Themed Bunks
Inspire your child's imagination with adventure-themed bunk beds! Designs like treehouses, castles, and tents encourage creativity and play, turning bedtime into an exciting journey. In addition to their fun appearance, adventure-themed bunk beds offer numerous benefits, such as promoting creativity and social skills in children while saving space and providing privacy.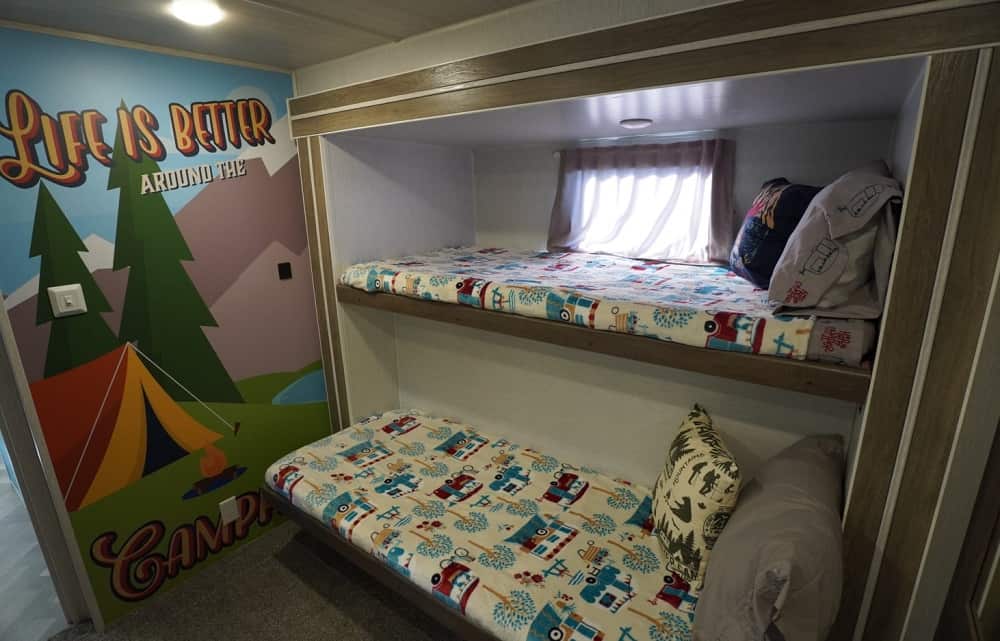 Create This Look Yourself
With endless design possibilities, these themed bunk beds are perfect for making your child's RV experience truly unforgettable.
Space-Saving Bunks for Siblings
When traveling with siblings, finding sufficient sleeping space can be a challenge. Space-saving bunks, such as a triple bunk room or loft beds, maximize sleeping areas while maintaining a comfortable environment. These bunk beds not only provide a cozy sleeping area, but also add a unique and fun touch to your RV's décor.
Take a look at this DIY built triple bunk by Heyletsadventure maximizes this space to add 3 beds. The frame is made from easily sources lumber. The black pipe ladder and rail parts for the upper bunk can be found at any home depot and custom built to the space.
Build This Look For Yourself
Don't forget to follow safety guidelines for bunk beds, such as weight restrictions, guardrails, and proper ventilation.
Educational Bunks
Encourage learning and growth with educational bunk beds! These bunks incorporate elements such as built-in desks, bookshelves, and interactive features, creating a stimulating environment for young minds. Benefits of educational bunk beds include optimizing space, creating personalized storage solutions, and improving organization.
Educational bunks would typically be a top bunk only, with desk space below as in this example from Ben and Kari Orvis
Recreate This look In Your Rig
By incorporating educational elements into your child's sleeping space, you're providing them with a fun and engaging environment to learn and grow.
Pet-Friendly Bunk Bed Options
For those traveling with furry family members, pet-friendly bunk beds are essential. In this section, we'll discuss dog crate bunks, elevated pet beds, and collapsible pet beds that cater to the needs of your four-legged companions. These innovative solutions ensure that every member of the family has a comfortable and secure place to rest during your RV adventures.
Dog crate bunks provide a safe and secure place for your pet to sleep. They are designed to be effective.
Dog Crate Bunks
Dog crate bunks offer a convenient solution for pet owners, combining a bunk bed above a secure dog crate in the bottom bunk. This design saves space while providing a comfortable sleeping area for both humans and pets. Dog crate bunk beds are also easy to clean and offer a safe, den-like space for your pup to rest.
Build Your Pet a Cool Bunk
To ensure a safe experience with dog crate bunks, make sure the bed is securely attached to the wall and is the right size for your dog.
Elevated Pet Beds
Elevated pet beds provide a comfortable sleeping space for pets off the floor, often attaching to existing bunk beds for convenience. These elevated dog beds keep your pet away from dirt and mess while helping them stay cool in warm weather.
Ensure the bed is securely attached to the bunk bed and is the right size for your pet for a safe and cozy experience.
Collapsible Pet Bunks
DIY Camper Bunk Bed Projects

If you're a DIY enthusiast, you'll love these camper bunk bed projects that allow you to customize your sleeping spaces. In this section, we'll share basic DIY bunk beds, upcycled bunk bed ideas, and adjustable bunk beds as customizable and budget-friendly options.

With a little creativity and some elbow grease, you can create the perfect bunk bed solution for your RV, making it a versatile and comfortable space.
Basic DIY Bunks
Building your own DIY bunk beds is a cost effective way to add sleeping space rather than shopping for a rig with bunks already in. Plans can be very simple and you can custom build to fit your own space. You can find creative ways to invent storage drawers or bins. Check measurements beforehand or you may need custom sized mattresses.

This simply built 2×2 board bunk stack is easy to build to fit your space. An Ikea drawer set adds extra storage space. Add mattresses and decor, and there you go! Well done by Where The Wild Ones Roam!
Built This Bunk Room Yourself
To ensure safety, pay attention to weight, guardrails for upper bunks, and proper ventilation.
Upcycled Bunk Bed Ideas
Upcycling is a creative and eco-friendly way to design unique custom bunk beds using existing furniture or materials. Repurposing old furniture, pallets, and other materials can result in one-of-a-kind custom built beds that not only save space but also showcase your personal style.
Upcycled RV bunk bed ideas are perfect for those who want a distinctive and budget-friendly sleeping solution for their RV.
Adjustable Bunk Beds
Adjustable bunk beds offer flexibility in design, allowing for changes in height or configuration as needed. These beds can be easily modified to suit different preferences and space requirements, making them ideal for RV trips.

Adjustable double bunk beds provide a versatile and customizable option for those looking to optimize their sleeping spaces.
Camper Bunk Bed Storage Solutions
Maximizing storage space in your camper bunk beds is essential for an organized and clutter-free environment. In this section, we'll explore under-bed storage, integrated shelves and cabinets, and hanging storage solutions that help you make the most of your available space.

With these creative storage options, you can keep your belongings neatly tucked away without sacrificing valuable floor space.
Under-Bed Storage
Under-bed storage utilizes the space beneath bunk beds for storing belongings, with options like drawers or sliding bins. This type of additional storage space helps keep your belongings organized and tucked away while providing easy access to items you don't use often.

Under-bed storage is an excellent way to make the most of the limited space available in your RV. It can be used to store items like extra bedding, seasonal clothing, and other items.
Integrated Shelves and Cabinets
Integrated shelves and cabinets provide additional storage within the bunk bed structure, keeping belongings organized and accessible. Built-in storage solutions, such as drawers and cabinets, help you maximize your limited space and make your RV sleeping area more functional and stylish.

Ensure the shelves and cabinets are securely attached to the bunk bed structure and are not overloaded for maximum safety.
Hanging Storage Solutions
Hanging storage solutions attach to bunk beds or walls, offering extra storage without taking up floor space. These storage options are perfect for keeping items organized and readily available without cluttering your RV.

With hanging storage solutions, you can optimize your available space and maintain a tidy and organized sleeping area.
Safety Tips for Camper Bunk Beds
Safety should always be a top priority when it comes to camper bunk beds. In this section, we'll provide important safety tips, including weight restrictions, guardrails and ladders, ventilation and fire safety considerations.

By following these guidelines, you can ensure a secure and comfortable sleeping environment for everyone on board.
Weight Restrictions
Adhering to weight restrictions is essential for ensuring that bunk beds can safely support occupants. Guidelines for maximum weight limits and mattress sizes vary depending on the bunk bed model and manufacturer, so it's crucial to check the specific limits for your bunk bed.
Following weight restrictions guarantees that your camper bunk beds remain safe and reliable throughout your travels.
Guardrails and Ladders
Guardrails and bunk ladders provide essential safety features for bunk beds, preventing falls and ensuring easy access to upper bunks. Make sure guardrails are securely fastened to the bunk bed frame and the ladder is firmly attached to both the bed frame and guardrails.

Following safety guidelines for guardrails and ladders will help create a secure and comfortable sleeping environment for everyone.
Ventilation and Fire Safety
Proper ventilation and fire safety considerations are crucial for a secure and comfortable bunk bed experience. Select the right mattress that allows for adequate air flow, avoid blocking windows or vents, and install smoke detectors near sleeping areas.

By following these safety guidelines, you can ensure a safe and enjoyable RV trip for everyone on board.
Creative Camper Bunk Bed Ideas
In conclusion, creative camper bunk bed ideas can transform your RV trips, providing space-saving and functional solutions for sleeping, storage, and even pet accommodations. From innovative designs like built-in, floating, and convertible bunk beds to themed options for kids and DIY projects, there's a perfect bunk bed solution for everyone. By following the safety tips and guidelines shared in this blog post, you can ensure a secure and comfortable sleeping environment for all. So, why not explore these exciting bunk bed ideas and make your next RV adventure a memorable one?
RELATED ARTICLES
Frequently Asked Questions
What are some innovative bunk bed designs for campers?
These innovative bunk bed designs for campers – built-in, floating, and convertible – are perfect for maximising space and convenience while on the road! Built-in bunk beds are designed to fit snugly into the walls of your camper, providing a comfortable sleeping space without taking up too much room. Floating bunk beds are suspended from the ceiling, allowing you to make the most of the space.
How can I make my bunk beds pet-friendly?
Make your bunk beds pet-friendly by using dog crate bunks, elevated pet beds, or collapsible pet bunks for your furry friends.

These pet-friendly bunk beds are perfect for small spaces and can provide a comfortable and secure sleeping area for your pet. They are easy to assemble and can be moved around the house with ease. Plus, they come in a variety of colors.
What are some DIY camper bunk bed projects I can try?
If you're an RV enthusiast looking for a budget-friendly and customizable bunk bed project, then basic DIY bunk beds, upcycled bunk bed ideas, and adjustable bunk beds are all perfect options to explore.
How can I maximize storage space in my camper bunk beds?
Maximize your camper bunk bed storage by utilizing under-bed storage, integrated shelves and cabinets, and hanging storage solutions. Get creative and organized to make the most of your space!

Make the most of your bunk bed storage by utilizing all the available space. Think outside the box and use creative solutions to maximize your storage. Hang items from the ceiling, use shelves and cabinets, and take advantage of the space.
What safety tips should I follow when using camper bunk beds?
Stay safe when using camper bunk beds – adhere to weight restrictions, check guardrails and ladders are secure, and make sure to consider ventilation and fire safety.