Easy Camping Meal Plan
As camping season approaches each year, every good camper knows: planning is everything. Picking your site, planning your activities, packing your gear, and of course, planning out what you'll eat!
Whether you're going for a day hike or out for an extended trip, planning camping meals for two, or feeding a group, using a camping meal plan template and following these tips and meal planning ideas will give you a great place to start. Let's dive in so that you can get on the road!
Why Do Camping Meal Planning?
It's so important to be ready for your trip. Nothing spoils a night of camping like not having the right supplies to cook your meal, having food spoil, or even running out of food to eat. You might even face other surprises like picky eaters or camping buddies with food restrictions.
A solid meal plan will ensure you pack just enough, that you're traveling as light as possible, and that you satisfy all of your campers. For longer camping trips, a camping meal plan will allow you to travel complete and lessen the chances you will have to shop during your camping adventure. A little extra planning will make your trip that much more enjoyable.
Fill out this quick form and get a free copy of our weekly meal plan. It will help you to organize your different meals, bring all the food you need, and enjoy nature more during your next camping experience.
How To Use A Camping Meal Plan
The handy camping meal planner template included is a simple chart for a week's worth of meals, including snacks. It's a great, basic way to decide what you'll have each day, and a quick reference so you can decide what you'll need to pack, like cooking supplies (camp stove, utensils, pots, pans, etc.), condiments you might like, and how much of each ingredient to bring for your group.
First, figure out what you'd like to eat each day, then take notes on another sheet of paper. How many breakfasts, lunches and dinners will you serve? What kinds of snacks does your camping group like? Will you cook indoors, on a grill, or over an open fire? (maybe all 3) Answering these questions will enable you to remove a lot of the guess work and save you tons of time.
When you're ready to pack, you'll know just how much of each thing to bring. Check items off as you pack them to make sure you do not forget anything. Take the camping menu planner template along with you for reference.
12 Tips For Planning Meals On Your Next Camping Trip
Just getting started? Read ahead for some tips for planning, shopping, packing, and preparing your favorite camping meals.
1. Determine the Length of the Trip
You always want to make sure you have enough food for the entirety of your trip, but you also don't want to overpack. Obviously!
Food and cooking equipment is heavy if you're carrying it to a campsite, and cooler or car space is limited. Knowing how many meals you will prepare and creating a food packing list will really help you to stay organized. You can also use this list to create a shopping list to make your shopping simple.
Plan for three meals and light snacks for every day of your trip. If you're not into counting calories, use your best judgment about what constitutes an adequate meal. If you are doing a lot of hiking or intense outdoor activity, you'll need to eat more. It's always ok to pack a little extra, rather than having to go shopping!.
2. Consider the Weather
The temperature outside will have a big impact on what you can and should bring. If you're in a climate-controlled RV, it's not going to big a big issue, but if you're storing the majority of your food outside in a cooler, there are some things to keep in mind.
When the weather is very hot, a cooler won't last as long. Check the temperature and length of time your cooler is rated for, and don't pack more perishable cold items than you can consume in that length of time. Check to see if you will have a ready supply of ice local to where you are camping. Hot weather also makes some snacks less viable. Protein bars, candy, and soft fruit (bananas, grapes, peeled oranges, etc.) won't last long outside.
Cold weather camping might give you more food storage options. If the weather is very cold, you can consider bringing more perishable items like frozen vegetables, hotdogs, and cheese. You can also consider more open fire cooking, using the Dutch Oven, etc.
Always check local guidelines about storing food outside so as not to attract wildlife and bears. You might also want more hot meals when it's cold. Nothing better than a cup of hot cocoa and some campfire-cooked grub when there's a bite in the air!
3. Plan Leftovers Into the Schedule
Adding leftovers into your next meal is a great way to keep things interesting and cut down on food preparation time. Make extra food on day one, and add this to tomorrow's breakfast. It might sound strange having hotdogs for breakfast, but slice those up and add them to eggs, and you've got a camping omelet kids will love.
Leftover sweet potatoes, grilled brussels sprouts or other vegetables, mushrooms, tomatoes all add nicely into a morning scramble, this also helps tp fill people up fast. Check out our favorite vegan breakfast ideas.
Always store leftovers properly, and throw out cooked foods that have been left out too long, or if the weather warms or your ice melts too fast. Better safe than sorry.
4. Plan Some Grab 'n Go Meals
Even with a camping menu plan, camping is an unpredictable adventure. Sometimes you'll wake up late and want to get out of the RV and hit the trail right away; sometimes, the weather makes fires impossible, and sometimes you'll just be too worn out for cooking. Prepare some simple no-cook meals for the times when you can't stick to your cooking schedule. These are also great to take along for hikes or long days away from camp.
5. Always Eat Perishable Food First
You can plan meals that include perishable foods like hamburgers, hotdogs, dairy and more, but make sure you have enough time to eat them. Start your trip off with any perishables, and save the dry food for the end of your trip. It would be a shame for a camping trip to end too early because of something spoiled.
6. Do Most of Your Meal Prep at Home
The more menu planning and prep time you spend at home, the more fun and less frustration you'll have at camp. Many favorite camping recipes can be pre-made. Prepping meals doesn't just cut down on cooking time. It also means you'll have to bring less and you'll have less to dispose of at your campsite and have more time to enjoy your camping adventure.
Cut and chop vegetables. This saves time, space and you won't have to dispose of vegetable scraps.
Marinate your meat before freezing. Pre-seasoned meat means you don't have to carry extra spices, marinades, and seasonings.
Make your own spice packets. To save on time and potentially space, create single-meal spice packets with everything you need for that breakfast hash or skillet dish.
7. Pack Your Cooler Carefully
Maximize your space and the longevity of your cold and frozen foods. Pack foods that are frozen on the bottom and build towards the top with items that need to be kept cold.
Stay sanitary. Avoid mixing meat with other foods in the same cooler. Never consume perishable food, especially meat and dairy, that has experienced unsafe temperatures for an extended amount of time, even if you plan to cook it. Consider buying a thermometer for your meat cooler.
Dehydrate some of your food. Home dehydrators are an affordable way to prep easy meals for camping. Dehydrated fruits and vegetables save space and have a much longer shelf life. This is especially good if you're looking for meals that don't require a cooler or fridge. Cooked and dehydrated vegetables, beans, and legumes pop right back to life when you add them to soups and stews.
Bring enough ice. If your cooler is new, it's a good idea to fill it with ice and maybe some frozen vegetables you're not afraid of losing. Even though coolers have ratings for temperature and the time they keep food cold, you should get to know how yours performs in hot weather and filled with your choice of frozen/cold items.
PRO TIP
Frozen ice packs can work better than ice because they do not produce water as they melt and will not make your food soggy. Some packs, like YETI ICE BRICKS or COOLER SHOCK ICE PACKS even freeze at lower temps, so they stay colder longer. If you are using ice, make ice packs with zip lock bags. The bags will contain the melt water and keep your cooler dryer.
8. Check Your Home Inventory BEFORE You Shop
You've probably got some camp-ready food and ingredients in your fridge and pantry right now! Plan your meal ideas and list ingredients before you head to the store. This saves money and ensures food doesn't go to waste while you're gone. Camping meals don't have to be fancy, and you might find you already have something that would make a great substitution.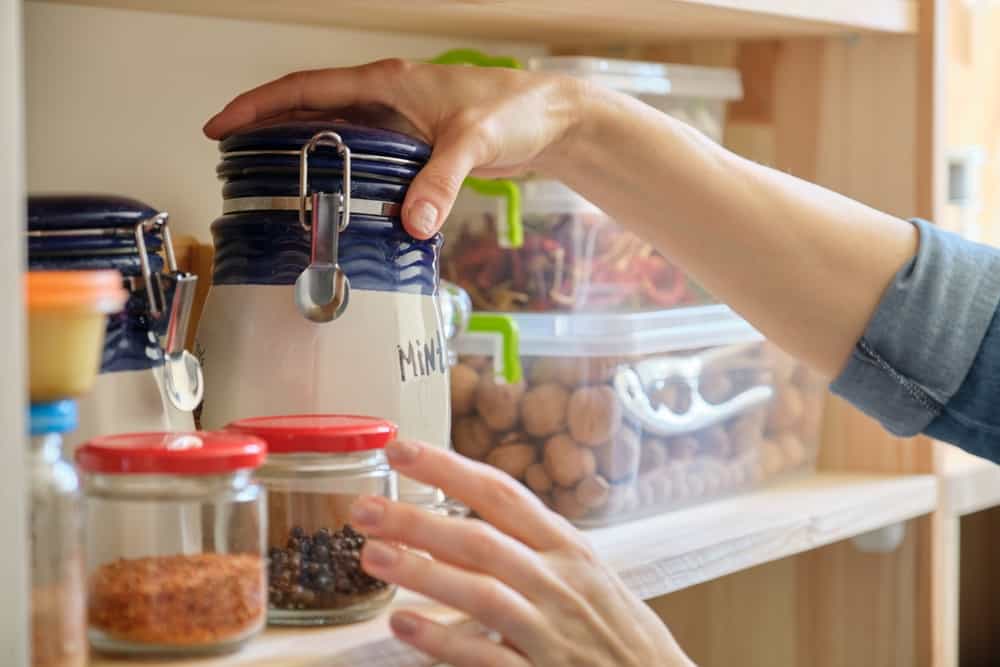 9. Focus on Easy Camping Meals
Food just tastes better on a camping trip. So you don't have to go overboard. Easy camping recipes with just a few ingredients are more than enough to fill you up during your trip.
Use 3-5 ingredients. When you're planning, try to limit what you have at each meal. One vegetable, one protein, and a starch or fruit might be all you need. Save time, save space and eat great.
Get inspired. Need some ideas on what to cook for your next camping trip, check out my top 5 go-to meals for our RV travel days, or maybe you are a planner and like to make your favorite camping meals ahead of time, or take the easy way out and go with these no-cook camping meals (My favorite!). Try some on your next trip.
OTHER RELATED ARTICLES:
The Best Cast Iron Skillet Recipes For Camping
East Camping Recipes for Large Groups
51 Camping Food Ideas When You Don't Have a Fridge
Ridiculously Good Dutch Oven Camping Desserts
10. Lean On Your Crockpot (or Instapot).
Not everyone has the space or the ability to bring a slow cooker, pressure cooker, or their beloved Instapot. However, if you're camping somewhere with hookups, this is a super easy option. Load your pot with precut veggies, dried beans, and legumes or meat, cover with broth or water and let her go while you enjoy your time at camp.
Check out our favorite crockpot recipes for camping, this is one of my favorite ways to cook (Dump the food in and head out for the day – what's not to like!) Instapots have even more features for fun and easy meals. Just make sure you don't leave your cookware unattended.
11. Mix Up Your Cooking Options
There's more than one way to fix a great meal! Even the same ingredients get a new spin when you cook them a different way.
Oven vs. crock pot vs. grill vs. campfire. There are so many ways to whip up grub outside. Open fires are fun for evening meals and DIY roasting s'mores and hotdogs. Campsites with hookups are the perfect place to try out your camping pizza oven or portable convection oven; portable grills are a classic, and many campsites offer charcoal versions to use for free; and of course, your trusty crockpot will make great soups and stews. Even something simple like hotdogs get a different flair on a grill vs. over a fire.
Keep things exciting. You're out to have a good time, so your food doesn't have to be boring OR follow the rules. Leftover for breakfast, pancakes for dinner, or get creative by letting kids pick and create their own soup mixes.
Let every cook their own meal. Campfires are great for socializing and a fun, shared experience. They're also the perfect way for everyone to whip out their cookware of choice (even if it's just a two-pronged stick) and make their own meals.
Kids can roast hot dogs, and you can boil a large pot of water for everyone to make soup, coffee, or cocoa. It's a great way to spend time together, and everyone can have exactly what they're craving. If you have younger kids, encourage them to put together their foil pack to cook over the fire.
12. Shrink Condiment Sizes by Using Smaller Container
This tip is huge…but not literally. Spicing up camp meals with seasonings and condiments is crucial to delicious meals and keeping things interesting…but you don't want to drag a dozen full sized bottles and jars with you.
The solution is easy – only take what you need in much smaller containers. You don't have to go out and buy anything special, either. Condiments, spices, and herbs can be carried out in small plastic bags, or Tik Tac boxes. Just be careful not to crush any baggie filled with condiment. If you've got extra packets of ketchup, mustard, or sauce from fast food restaurants, this is the perfect time to use them!
Bonus Planning Utensils
Writing down your meal plan helps not only in gathering ingredients and extras, but you'll know precisely what utensils and cookware you'll need. You don't have to have special camping cookware – silverware from your kitchen drawer works just fine. If you opt for disposable plates, cups, and flat wear, always make sure to carry them out with you or dispose of them properly at your campsite.
Cookware can be simple too. Before you buy a ton of pots, pans, kettles, and containers to cook in, consider how you can get extra use out of a single pot or pan. On the other hand, if you have a large group, you might want extra cookware so you can have the whole crew's meals ready at the same time.
Cooking For Groups
Planning, prepping, and cooking for many people require even more diligence. You want to make sure you have enough food for everyone, that you have the requisite camp kitchen essentials, enough silverware, and that you satisfy the dietary restrictions and tastes of everyone in your group. Here are some tips when planning meals for a big group.
Take a poll. Ask around to find out what food allergies, dietary restrictions, and preferences your group may have. Sometimes it might even be important that you store certain food differently, in the case of allergies or religious restrictions.
Plan together. Get everyone in on your meal plan, and divvy out ingredients between everyone on the trip. This means you won't duplicate meals or ingredients, and you'll be able to carry a wider variety of foods. Sharing is caring!
Take it easy. For large groups, simple meals are usually best. Think: things that you can make in one large pan (like egg scrambles) and meals with few ingredients come together quickly.
Take turns. Let everybody get a turn cooking. This adds variety and takes a lot of pressure off of you. You might even discover a brand new meal or style of camp cooking you've never encountered. Plus it is fun for the whole family. 
DIY your meals. This works great for 'foil packs' meals, kebabs, and even snack packs. For meals, lay out cut up veggies, cooked or dehydrated beans, legumes, grains or bread, and even leftovers. Let your hungry campers choose what goes on their roasting stick or in their packet. For snacks, provide baggies and let everyone fill up on whatever dried fruits, nuts, granola, or whatever trail-mix ingredient they'd like. Everyone's happy, and it's a fun activity for kids.
Good 'ol burgers and dogs. A BBQ favorite is also great for camping. Make sure you start your trip with these kinds of perishable meats. Hotdogs, burgers and veggie patties/dogs cook easily over a fire, on a grill, or just on a hotplate.
Campfire baked potatoes. A foolproof way to feed a large group is to wrap raw potatoes in foil and throw them right on the fire. It's almost no cooking on your part. Toppings can be cooler foods like butter, sour cream, or cheese, but a potato can also be saved for the end of your trip and topped with salt, pepper, dried chives, 'everything bagel' seasoning, and anything you can think of. They're also the perfect side for almost any meal – throw them back in a skillet and squish them flat for 'smashed browns' in the morning.
Corn on the cob (in the fire). Grilled corn is even more delicious cooked over a fire or wrapped in foil and placed over the embers. You can even leave the shucks on the ears and put them right in the fire (soak in salty water first). Smoky, charred, and great for almost any dietary requirement. Add packets of grated parmesan cheese and dried chili seasoning for a non-perishable and easy traveling Mexican street corn treat!
Have a leftover feast. Eventually, you'll have something for everyone. At the end of your trip, combine any ingredients, condiments, and seasonings your group brought and add them to any prepared food you've got leftover. Most of the time, campers don't want to carry out or save the remaining food, so the last leg of your trip is the perfect time to go wild and cook up everything you've got in any way you desire.
We hope you can use our camping tips to make your camping trips easier but still have great meals. Every camper and every trip is different. Find your groove, and always keep experimenting! Remember, don't go overboard, have fun and enjoy yourself on your next camping adventure.
How To Plan Camping Meals