Easy Camping Food Ideas That Don't Require a Fridge
No fridge? No problem. Head out into the great outdoors a little lighter with these fun and delicious camping food ideas no fridge required!
You're headed into the great outdoors. Sure you could load up a cooler, but those are heavy, ice doesn't last forever and then you have to lug it back and clean it.
Plus backpackers and die-hard hikers know, the lighter the better. How about stocking up on some great non-refrigerated foods for your next adventure.
Avoiding perishable camping food that require refrigeration means less hassle and less chance of your food going bad. Spend less time worrying about that cooler, and more time enjoying nature. You'll be surprised at how many delicious and easy non-refrigerated food options there are.
Whether you're out with picky kids, vegan or vegetarian, looking for the healthiest option, or just looking for something tasty to snack on around a cozy fire, this list of 51 travel-friendly camping meal ideas has something for everyone!
There are ingredients for the cookout chefs and great tips for the traveler who'd just rather forage for a grab and go bite at the supermarket.
Take notes, because we're hiking down a very tasty trail with this list…
Camping Foods That Do Not Require Refrigeration
Meats:
Canned tuna (or tuna packets)
Canned chicken
Spam
Canned ham
Canned chilli
Jerky
Pre-cooked bacon
Summer sausage
Pepperoni
Salami
Smoked fish
Smoked meats
Freeze dried meats
Sardines
Canned salmon
Other No Fridge Proteins:
Unwashed Eggs
Smoked cheese
Nuts
Soy chunks
Textured vegetable protein
Some plant based proteins
Canned beans
Canned garbonzo (chickpeas) beans
Protein powder
Dried beans
Nut butters
Vegetables:
Tomatoes
Corn on the cob
Potatos
Garlic
Winter squash
Herbs
Onions
Cucumbers
Eggplant
Peppers
Sweet potatoes
Pickles
Carrots
Canned vegetables
Fruits:
Apples
Oranges
Bananas
Pineapples
Plums
Avocadoes
Tangerines
Lemons
Limes
Olives
Mangoes
Kiwis
Apricots
Peaches
Pears
Cantolope
Canned fruit
Dried fruits
Grains and Grain Products:
Rice
Self Rising Flours
Pancake Mix
Bread
Bagels
Cornbread
Muffins
Barley
Quinoa
Flax Seed
Tortillas
Pita Bread
Tortilla chips
Crackers
Dry Cereal
Oatmeal
Grits
Buscuit mix
Chia
Canned Meals
Soups
Stews
Hash
Pastas
Chilli
Snacks and Treats
Marshmallows
Graham crackers
Trail mix
Chex mix
Chips
Cookies
Pop Tarts
Chocolate
M&M's
Energy Bars
Granola
Beverages:
Dried milk
Oat milk
Bottled Water
Evaporated milk
Powdered Beverge mixes
Misc:
Honey
Jarred tomato sauce
Jarred alfredo sauce
Gravy
Now lets see what kind of tasty meals we can make using these ingredients:
No-Cook Camping Breakfasts
The most important meal of the day doesn't have to be hot, or boring! Try mixing up your breakfast with these great no-cook options that also don't need to be refrigerated.
If you need some tips for planning meals on your next camping trip, check out these awesome 12 tips for planning camping meals!
1. Bagels
A classic easy option for breakfast anyway, you have so many options when it comes to bagels. Eat them plain, add a few slices of tomato or do them up with peanut butter. Bagels are ideal for a quick meal on the trail or anywhere.
2. Breakfast Cereal
Fiber, energy, and sometimes even dehydrated marshmallows and cartoon characters. There's a cereal for everyone, and if you're not into eating just handfuls of dried cereal, try pairing it with raisins, dried fruit, or granola.
3. Canned Milk/ Powdered Milk
Just add water. Canned/evaporated milk is usually a 1:1 evaporated milk to water ratio when preparing. The taste might take getting used to, but it's also great in coffee or cocoa. A suitable substitute when you're camping with no fridge.
4. Nut Butters
A nearly perfect food. If you're not into peanut butter, or can't eat it there's tons of nut butter, all shelf-stable and ready to come along for the ride. Almond butter, sunbutter, and cashew butter all pack a ton of energy and protein for a good start to a great day.
5. Oatmeal
An easy and trendy breakfast. Instead of cooking your oatmeal, try overnight oats! Add your favorite mixins like seeds, nuts, dried berries, flaxseed, hemp, and shredded coconut to steel-cut oats and let soak overnight.
OTHER ARTICLES YOU MIGHT BE INTERESTED IN:
Delicious Dutch Oven Camping Desserts
Camping Meals Perfect for Large Groups
6. Chia
Mayan and Aztec warriors carried this superfood as their source of nutrition for long journeys. That's because it's light and packed with nutrients and energy. Add it to a beverage or your overnight oats.
7. Honey/Syrup
Honey is the world's oldest preserved food and lasts forever. Beware of bears, and enjoy honey, maple syrup, or agave on campfire flapjacks, toast, bagels or sweeten up your oatmeal.
8. Cakes
Ok, maybe not actual cake, but you can get away with having a muffin, slice of banana bread, or even a hunk of cornbread for breakfast. You're on vacation! Live a little…
PRO TIP: I used to buy pound cake and cut it up into sections for the 4 of us on mornings where we would be up super early to go somewhere. The kids loved it and it kept everyone full.
Camping Packed Lunches With No Refrigeration
Busy day on the trail? Going out on a canoe? Maybe you're just out for a day and need something to carry for a simple cold lunch. There are plenty of options for a camping lunch that requires zero cooking and no refrigeration.
9. Fresh Vegetables
Fresh veggies won't last forever, but even at room temperature, most will give you at least a few days. Seal them in plastic baggies for extended freshness.
Carrots, cut celery, and whole cucumbers are great for quick snacks, and vegetables like potatoes, peppers, and summer squash make great campfire meals.
10. Protein Shakes/Meal Replacement Shakes
These come either powdered or in a bottle. Don't have them for every meal, but they're a great substitute if you're on the trail or just too busy having fun.
11. Canned Tuna
Did you know Starkist Tuna is the best-selling canned food in America? And why not – it's ready to eat, full of protein, and goes great in so many camping dishes. Make a sandwich, add some protein to a quick veggie stir fry or find it premixed with dressing in pouches.
12. Individual Dessert Cups
You can find puddings, applesauce, and jello desserts. Make sure that it's not from the refrigerated section, and don't save anything that's been opened.
13. Summer Sausage
The best part of a charcuterie board can be the best part of your camping lunch. Super simple to pack, and a good source of energy and protein. Pair it with some crackers or super thin bread.
14. Chips and Salsa
You can get small pre-portioned salsas, or just portion some out when you get there. This is a super easy little meal to carry.
15. Condiment Packets
Don't throw away those little ketchups, salts, and mustards. Save them for camping and throw them in with your packed lunch.
16. Canned Hummus
Yes, hummus comes in a can. Great with tortilla chips, pita, crackers, carrot sticks, and part of a veggie sandwich!
17. Sardines
Don't knock it until you try it! Sardines are an excellent source of protein. You can eat them on crackers or just straight up. You might wince the first time, but all that omega-3 and good fat will keep you full for a long time!
18. Bread
Sandwiches of course! It's also good for texas toast over a fire, campfire cherry pies, or have a slice for breakfast. Bread is so versatile and easy to carry. Try pita, naan, English muffins, rolls, or bake your own artisan loaf for the road.
Non-Refrigerated Camping Meals -Dinner
Let your inner camping cook shine! You don't have to get fancy to have a nice hot meal while camping. Whether you've got a stove or are cooking over an open flame, these non-refrigerated options are sure to satisfy after a long day of outdoor adventuring.
Many of these are make ahead camping meals, which will save you a lot of prep tie while out in the wild.
19. Ramen
While not the healthiest meal choice, sometimes you deserve a meal that's quick to prepare and tasty. The same staple from college life is a great staple for life on the road. Plus, it's super cheap.
20. Pre-Cooked Rice
Packages of pre-cooked rice have the benefit of not needing to be warmed. Just tear the bags open and enjoy! There are dozens of flavors and styles to choose from or add your own ingredients like corn, peas etc
21. Canned Veggies
Vegetables for the long haul. Canned vegetables are ready to eat and an easy addition to any camping meal. The great thing about canned vegetables is there are more options than you probably considered.
Sure, there's canned peas, carrots, and corn, but have you had canned roasted red peppers? Or maybe some artichoke to add to a killer dip.
22. Canned Fruit
Peaches, fruit cocktails, pears – just ask grandma, she'll tell you about the options for canned fruits. They're easy to eat for kids and don't require heating. A nice dessert after a day in the great outdoors. Fruit cups work as well.
23. Baked Beans
There's nothing like sitting around a campfire, with some good 'ol cowboy baked beans. No wonder they're still around. Baked beans are filling and travel easily.
24. Canned Pasta
Think Chef Boyardee. Canned pasta, Spaghetti-o's, and raviolis might not sound as appealing at home, but come in from a long day of hiking, exploring, and fun-having and you'll change your tune. You don't even have to heat them up if you're hungry enough.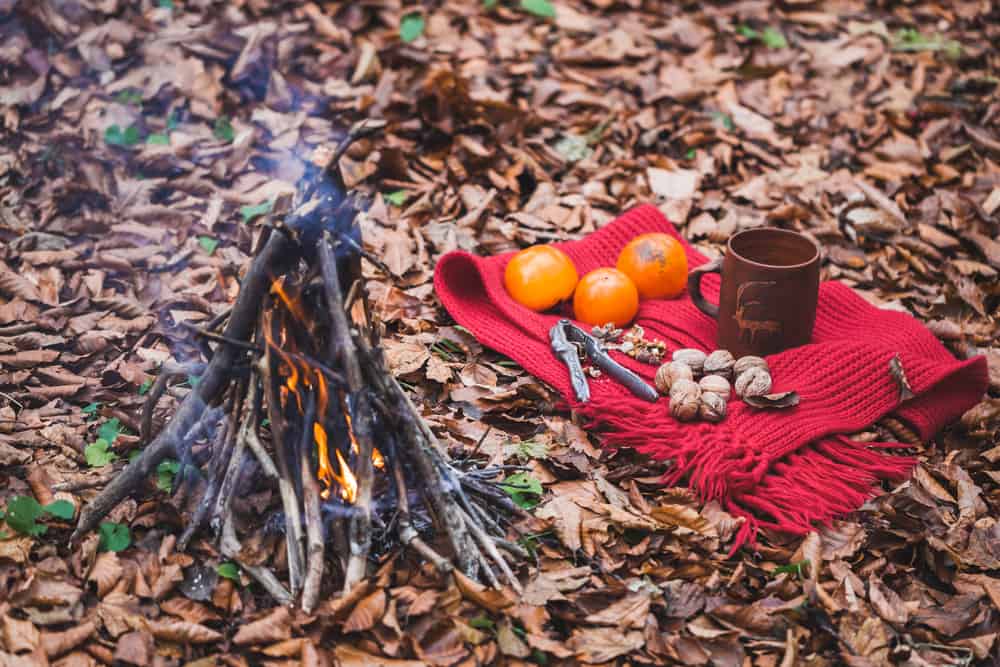 25. Potato Flakes
These need no refrigeration and make pretty decent mashed potatoes. Make sure you bring the salt and pepper.
26. Pasta
Just because you are not refrigerating, does not mean you can't have hot camping meals. Pasta lasts basically forever, and if you can make hot water, you can make yourself some pasta.
Spice it up, chop some vegetables and you've got a camping lo mein, or add some homemade and canned sauce or bring a jar of Ragu and you've got a meal Nona would be proud of.
27. Canned Meats
Vienna sausage, Spam, canned ham, canned chicken, canned fish, canned meatballs – the list goes on. Even better when you've got a griddle to fry them on. Make sandwiches, add them to powdered eggs for a hot breakfast, make simple stir-fries and get creative.
You can even bring some gravy in a jar – just make sure you don't try and save the leftovers without a fridge.
28. Canned Soup
Always an easy option for camping trips. There's a soup and stew for everyone in the family. Just heat and eat. This is one of our favorites, it's super filling and the kids enjoy it.
29. Canned Chili
Not a terrible choice for a camping meal. It needs no refrigeration and is even better with a side of cornbread.
30. Pasta Sauce
A must if you're bringing pasta. Try heaping some on a baked potato.
31. Soup Mixes
A tasty and lighter alternative to canned soups. Soup mixes can be a simple base for your own creation or a whole meal themselves.
Camping No Cook No Refrigeration Snacks
Grab these easy snacks for car rides, hiking, fishing or just sitting around enjoying the view. No refrigeration or cooking required.
32. Fresh Fruit
It's a delicious snack with its own wrapper! Whole fresh fruits are a great way to energize on the trail or a quick camping snack. Fruits like bananas and oranges don't even need to be rinsed, and other staples like apples, pears, plums, and grapes are an easy snack right out of your backpack.
33. Dried Fruit
You might be thinking raisins and cranberries, but there's so much more! You can find dehydrated apples, pineapple, strawberries, cherries, blueberries, etc.
If you want to get really fancy, invest in your own dehydrator and go crazy at home! Try cantaloupe – it's like candy-jerky. These dried fruit packets have worked great for us.
34. Nuts
Packed with energy and super easy to carry, nuts have always been a favorite of trail enthusiasts. Peanuts, Cashews, Almonds – you name it. Grab a handful and keep haulin'!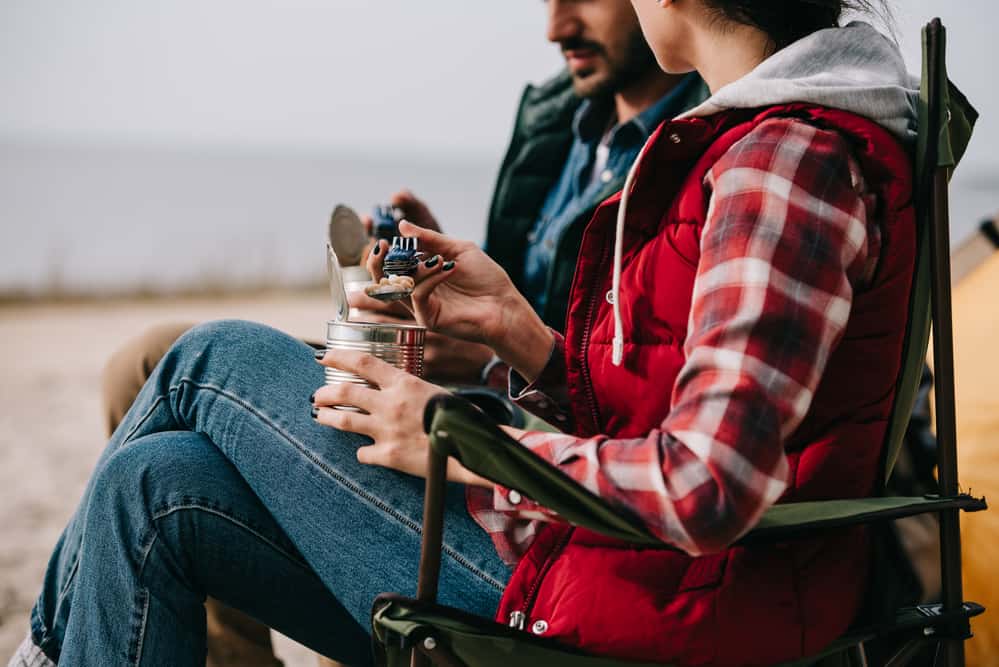 35. Beef Jerky
Perhaps the quintessential camping snack. Beef jerky should last two years when sealed. There's not just beef jerky either. Try turkey, chicken, pork – there's even vegan jerky!
36. Chips/Pretzels/Crackers
An easy snack you know kids will love. Pringles are particularly great because the packaging can take more abuse than bags. Grab a few for car rides too. You can't have too many salty snacks around!
37. Candy
Go crazy – candy bars, hard candies, licorice. Just beware of the heat when you're choosing something like chocolate bars.
38. Granola Bars
A snack that's just made for camping and hiking. With tons of flavors and options, you can even get creative and make your own homemade bars. Simple peanut butter + oats are a great base for a million different combinations.
39. Trail Mix
It's right there in the name! This classic outdoor snack is at every supermarket, and you can easily make your own. Throw in peanuts, tree nuts, dried berries, candies, coconut, and anything else you can think of.
40. Seeds
Sunflower seeds, pumpkin seeds, and pine nuts (yes, actually a seed) are packed with nutrients and minerals and are easy to eat as a snack. Everyone loves sitting around spittin' seeds and swapping stories. You can also add them to your overnight oats for an extra kick to your no-cook breakfast!
41. Cheeze Wiz/ Velveeta
No refrigeration is needed, and it's best not to ask why. Spray cheese (product) and Velveeta are a tasty snack on crackers or as a cheese substitute on sandwiches. Beware the sodium content and stay hydrated, campers.
Other No Fridge Camping Food Ideas
Many non-perishable, non-refrigerated foods are super versatile on a trip. Switch things up or add them to your camp cooking toolbelt. There doesn't have to be a dull culinary moment on your next trip.
42. Popcorn
An incredible snack around a campfire. Bring the stove-top pop kind or make it around the campfire and have some fun. Even tastier when you throw in some gooey chocolate chips, Milk Duds, peanuts, or M&M's.
43. Pie Filling
Campfire cherry pies, anyone? Make a little pocket by squishing two pieces of white bread together, fill with pie filling and toast.
You can also put a little on oatmeal for a decadent breakfast or bring along little pre-bake pie shells for a simple dessert. Top it off with Reddi Whip (or any whipped cream in an aerosol.)
44. Pancake Mix
There's nothing like a campfire flapjack with maple syrup or maybe some honey. Just make sure you get the mix that doesn't require eggs, that is unless you have a cooler with you.
45. Powdered Egg
There is great controversy over whether powdered eggs are worth eating. They might not look as beautifully fluffy as your regular scrambled eggs, but they full of great protein and a smart choice when you're hiking, biking, or exploring all day.
46. S'mores
How could you even think of going camping with some good old s'mores material? Even if you don't plan on making a fire, these three simple ingredients are great at any temperature.
Graham crackers, marshmallows and chocolate are the perfect food combination (and a camping tradition.) You can even just melt them on a pan.
47. Dried Grains
Rice, quinoa, barley, or something more exotic. Dried grains are cheap and light for the amount of energy they provide. Pair them with veggies or canned meats.
48. Cooking Oils
Olive oil, coconut oil, corn oil, vegetable oils – really any liquid plant-based oil does not call for a fridge. Try adapting some of your favorite recipes for the great outdoors (and no fridge).
49. Spices/Herbs
Who says you have to eat bland food while camping? Kick up your campfire cooking with your favorite seasonings. They're light and easy to store, so you have no excuse for boring dinners!
50. Dehydrated Vegetables
Eat these as a fiberful snack or rehydrate them for recipes. They're a little harder to find in American stores, but you can always try your hand at home dehydrating with a relatively inexpensive machine. Try making your own non-fried chips with zucchini or cucumbers!
51. MRE's
Here's a meal for a die-hard camper. If you're going on long through hikes or plan on being out in the boonies for a long time, you may want to consider military-style meals-ready-to-eat. They used to be harder to find – you'd have to go through a military surplus supplier, but now you can find every kind of meal under the sun packed up and ready for a long haul.
What are your favorite no-fridge-needed camping foods? Whether you're a lover of campfire cooking, or just want an easy lunch to take that needs no refrigeration or cooking, there's plenty of tasty options available.
Always check the packaging on pre-prepared foods and never leave a 'refrigerate after opening' product at room (or outdoor) temperature.
Be a good camper and always take note of the area's food storage suggestions (to stay safe from varmints and bears) and always leave no trace. Take those storage containers and packaging out with you!
Bon appetite, and good camping!
Camping Food Ideas No Fridge
Grainne Foley
Grainne Foley grew up in Ireland and spent summers caravanning around Europe with her family. Now, as a wife and mother of 2, she spent 5 years traveling the USA as a full time RVing family. She is passionate about travel, and helping others who are considering the RV lifestyle. She has created dozens of helpful RVing checklists which are available throughout the website, and has curated hundreds of simple, flavorful meals for families on the go.