We love camping because it gives us time to relax with family and friends. Of course one of the best parts of camping is the food, but feeding large groups of people can be difficult! As much fun as camp cooking is, we simply don't want to spend ALL of our time doing it. So easy camping meals for large groups are really necessary.
The best camping meals for large groups are meals that serve a lot, but are also simple to make, or are an event in themselves so that everyone can be involved. With a little prep work beforehand, you can make things pretty easy on yourselves and have a great time at meal time. Many of these camping recipes can be prepared prior to travel so that prep at the campsite is simple.
Meal Planning for Group Camping
As with any meals, it is all in the planning. Setting up your meals ahead of time allows you to also plan for the ingredients you will need so that you can shop efficiently. Just sign up below and get our FREE Camping Menu Planner and Shopping List to help you along. Then look through the easy camping meal ideas below to find the ones that your camping crew will love!
Breakfast Camping Meals For Groups
Breakfast is the most important meal of the day, especially if the day involves hiking, fishing, geocaching, or any of a number of strenuous activities. So get your crowd going the right way with these easy to make breakfast recipes for large groups. Way more fun than scrambled eggs!
That's right, you can bring Ihop with you on your camping trip! Pancakes are a staple no matter where you go, so what better way to kick off the group adventures than with this delicious recipe! Top with cream, or maple syrup.
Imagine glazed cinnamon rolls topped off with blueberries, sounds amazing right! That's essentially what you're getting with this recipe, and while it may take a little longer to prepare, it's totally worth it. Plus, this recipe is sure to get everyone ready to go for a long day of adventure!
Nothing tastier than a breakfast casserole- except one done in the Dutch Oven! Tastier and more convenient, this recipe is a no-brainer for those early morning camping cravings! A delicious and hearty meal that will please small or large crowds.
Sometimes camping can get hectic and there just isn't enough time to prepare something from scratch. For those occasions, this recipe is a lifesaver! It is super easy to make these breakfast burritos ahead of time, and don't worry, their compact size does nothing to take away from their massive flavor!
No better way to start the day for some hungry campers! Super convenient and fun to make, this recipe promises to make everyone happy. After all, it's a cinnamon roll, who doesn't like the sound of that!
Maybe the sweetness of cinnamon isn't quite your thing, in that case, these bacon skewers will be perfect for you! Making them is super easy which makes them great for those early mornings. Just be sure it isn't too early, cause once everyone tries these skewers, you're gonna need time to make seconds!
This recipe is one of the most convenient morning meals that you can make. Not only is it super easy to prepare, but it can be stored easily and made ahead! Convenient and delicious, can't go wrong with this recipe!
Yummy French toast for the masses! You can serve it with some fresh fruit or have it on it's own, either way this recipe promises a wonderful start to everyone's day!
Make ahead camping meals are a great way to save time and energy during your trip. This make ahead recipe is a breakfast classic. You can't go wrong with omelettes and chances are, everyone in your group is going to agree. So give this recipe a try, you won't regret it!
Speaking of eggs, we've got this wonderful casserole recipe for your group to try. With English muffin, eggs, and more, this recipe has something in it for everyone! Plus, it can be made ahead, super convenient and super delicious!
What separates this casserole recipe from the previous one is just how customizable it is! If you don't like a certain blend of vegetables or would like to add meet you can totally do so. The flavors are endless with this recipe so you and your group can always revisit it for some amazing breakfast!
We love our crock pot camping meals! If you've got access to a crock pot, this recipe is a must try! With hash browns being the primary ingredient, it promises a nice crunchiness to undertone all the wonderful flavors this recipe has!
Yeah you heard us right, biscuits and gravy, such a good combination! But it doesn't even stop there, cause with bacon and eggs this casserole recipe just keeps on giving!
Camping Lunches for Crowds
After a morning of wilderness fun, there is nothing like coming back to the campsite for a hearty lunch. An easy camping meal will help you get everyone fed, with a minimum of effort. Many can be pre-made as a grab-n-go (like fresh veggies), or laid out for a "do it yourself" (like sandwiches.) Makes life easier.
This is such a great camping lunch to prepare for anyone! The method of cooking the pork provided by the recipe promises to make the meat as tender and juicy as possible, and the addition of coleslaw and red onions just add that extra bit of flavor that completes this delicious recipe.
What makes sandwiches so great for camping is their general convenience since they are no-cook camping meals, and what makes this recipe so great is that it reimagines cobb salad as sandwiches! When prepared with whole French bread loaves, this recipe becomes well, a recipe for success!
Quesadillas are one of the best quick on the go lunches that you can prepare. This recipe takes the best aspects of quesadillas, adds some extra ingredients and makes it into the perfect campfire meal. Whether for yourself or for a group, you can't go wrong with this recipe!
For our meat lovers out there, we selected this fantastic recipe that blends so many delicious ingredients! With a variety of meats, veggies, and the inclusion of Italian rolls, this recipe has something for everyone to love.
As if hot dogs couldn't get any better, this recipe takes the classic meal and puts a fun new twist on it, literally!
This meal is especially great for large groups as not only does everyone love hot dogs, but once you bring out these new curly versions, you'll treat everyone to a pleasant, delicious and creative surprise!
This recipe is the definition of crunchy goodness! Even if you find corn chips to be a bit bland, this meal will completely change that. With olives, beans and cheddar cheese, these camping haystacks stack flavor upon flavor to make this amazing recipe!
Great little grab-n-go lunch idea. Supplement with hard boiled eggs, or deli meat to increase protein! An easy way to feed large families. Plus, no cook camping meals.++ are great for those rush days.
This recipe offers a unique take on the classic convenient camping sandwich. With a bit of a "build it yourself" element, it allows for a bit of customization, but with the addition of corned beef and sauerkraut, this recipe as is promises to have anyone hooked!
Foil packet meals are so easy and fun for everyone! Combine them with some nachos and you have one of the best camping meals there is! Preparing them is easy as they are kept in a foil packet, which also makes them super easy to store for later. Tasty and convenient, the perfect camping meal!
This recipe will take some more time to prepare, but it is absolutely worth it! For those days where you and your group need a filling and energizing lunch, this recipe promises just that. Beans, chips, cheese and salsa, all blended together into this fantastic meal.
This family favorite recipe is gonna become a favorite for everyone that tries it! It is so creative and easy to prepare that you'll be mad you didn't come up with it yourself! Who knew that a bag of Frito chips could be transformed into a bag of delicious walking tacos, but this recipe went ahead and did it and you'll be so glad you tried it.
The best camping meals for large groups are meals that serve a lot, but are simple to make, or are an even in themselves so that everyone can be involved.
Easy Dinner Recipes for Large Groups
After a long day of wilderness fun, your group will be ravenous. The best dinner recipes will not only please your campers, but will also be easy to prepare.
As you look through our list, think about what items on the camp menu can be prepared beforehand, so that you will have more time in activities or chilling. Here are some of the best campsite recipes to feed a hungry crowd.
Try doing your own meal in the slow cooker or instant pot, or pre prepping as much as possible to save you time at camp.
Just one pan, and a satisfying meal for the entire group! This recipe features steak, noodles and mushrooms in a delicious creamy sauce all prepared in a cast iron skillet. Once you've assembled the ingredients, preparing it will be simple and the whole camping group will be treated to a gourmet style meal!
These salmon foil packets add a ton of extra flavor to a familiar meal. Them being prepared in foil makes them perfect for a camping trip, and for the cherry on top, it's super filling! Making it great for those long adventurous days.
We just couldn't complete a list of camping group lunches without pizza! All you need is a cast iron to prepare this recipe with toppings being optional but if you'd like, they can add that nice final touch to it all.
Can't go wrong with pizza, you'll have everyone in your group excited for lunch with this recipe!
Kabobs are so great for camping because not only are they easy to prepare but they are fun to make as well! Who doesn't like to roast them over the fire for a bit just to add that finishing touch. This recipe promises a ton of flavor and a ton of fun!
This recipe takes some extra time to prepare but is absolutely worth it! Using a cast iron skilled and some tinfoil, once prepared the recipe is fairly easy to save for later and reheat the next day. So, while it may take some time, once prepared you're set for quite a while!
We included pizza, we just had to include Mac and Cheese as well! Another classic recipe that is easily prepared in a cast iron pan. While it will take around 40 minutes to prepare, this mac and cheese promises a delicious cheesy blend with kielbasa that will have everyone asking for seconds!
An easy dish for the cast iron skillet! A quick meal and a real crowd pleaser. Pasta is a great filling meal and with the addition of extra protein, this recipe promises to keep everyone energized for the whole day.
One pot? Easy recipe, easy cleanup! Everything is easy with this fantastic recipe, especially enjoying it! As who doesn't love some delicious chicken pot pie. And who doesn't enjoy camp cooking with cast iron?!
This recipe goes back to a staple, and that is chicken and rice. A simple meal but super easy to prepare and delicious. This is a great option for those who prefer a simpler and more familiar meal while camping, plus, it's super filling!
Another great recipe to substitute whatever is in the fridge. Instead of flour tortillas try spinach, or sun dried tomato. Try different types of meat, chopped up sausage links, black olives, corn, various types of cheese. Fun "make your own" option for your large family or group.
It's not too often that you get to have some caviar on a camping trip, but with this make ahead recipe, you can have it a as much as you want!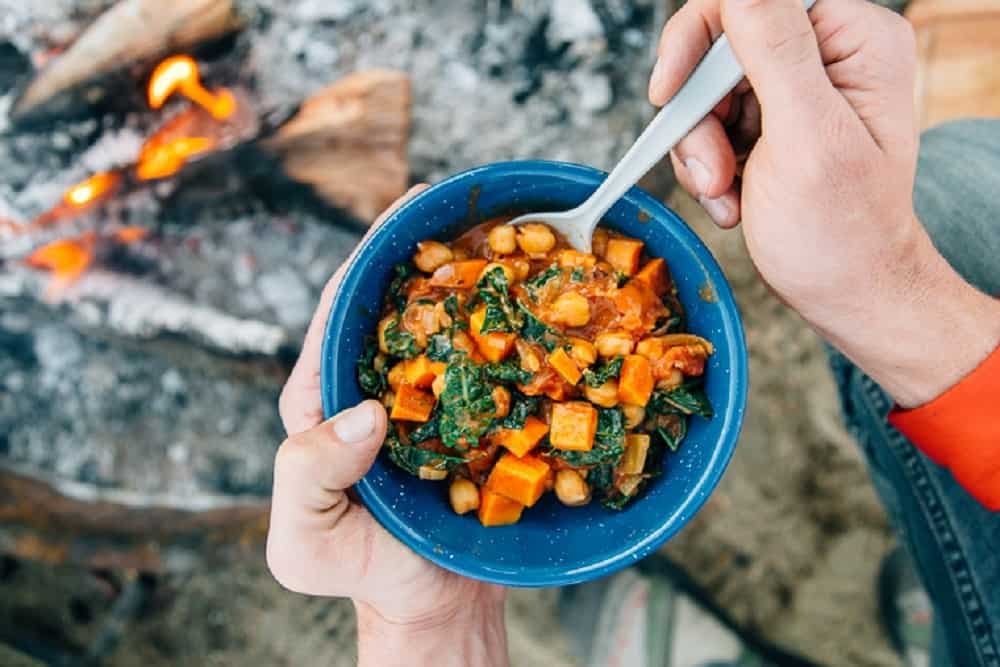 That's right, sweet potato peanut stew, it tastes just as amazing as it sounds! This stew will have anyone that tires it absolutely hooked, and is a perfect option for those colder camping trips, you won't regret giving it a try!
Super pleasing super simple meal for the whole family when camping. Try substituting green onions for red onions, ground beef for chicken, add sour cream, etc. Loads of variations possible! These cook right on the fire or grill, so use heavy duty foil.
This recipe takes everything that you know and love about kabobs and adds a little extra flavor. If you like Hawaiian recipes and like kabobs, then this blend is perfect for you!
This Mediterranean themed chicken dish promises to blow your mind! Prepared using a Dutch oven, this recipe promises a level of quality as if it was prepared in a normal oven. It's a meal so good you'll forget you're even camping!
Once again for those colder camp spots, we've selected a fantastic stew recipe! With shredded chicken, parsnips, and onions, this stew promises to do way more than just warm you up. It's a fantastic meal that everyone can enjoy!
This recipe from Damn Delicious is damn delicious indeed! These shrimp foil boil packets come complete with a nice touch of seasoning and are accompanied by corn on the cob. This is a blend of flavor that you'll never forget!
What screams camping more than a BBQ, with this recipe you'll get to enjoy a wonderfully prepared salmon all while enjoying the fun that comes with a classic BBQ!
Easy Desserts for Large Groups
After a delicious meal you can't skip a yummy dessert. The best group desserts tend to be either make it yourself over the fire, or large dutch oven recipes. Check out these favorites, gathered from all over the web. Your crowd will love you for it.
This recipe may sound a little strange but trust us when we say that walnut chocolate burritos are going to become a favorite of yours! The walnuts blend really well with the chocolate and cinnamon, becoming a unique yet amazing addition to your dessert repertoire.
Starting off our deserts we selected a Dutch oven recipe. Convenient and delicious, this cobbler has such a rich blend of fruits and sweets you'll never want to stop eating it!
What camping dessert list would be complete without s'mores! With this recipe, you'll be able to enjoy the best parts of camping with an easy to prepare classic recipe. Plus, get creative with it! After all there are a ton of different things you can do with s'mores to make the whole experience that much more memorable.
This recipe is great for those with even more of a sweet tooth, as these tarts may be small, but they pack a ton of flavor. With strawberries at the center, they are like eating a mini strawberry cake, and who doesn't like the sound of that!
Campfire cones are a great little spin on the idea of an ice cream cone. This dessert is also super easy to make as a result, and like ice cream will have everyone super excited to give it a try!
Just put out some of your favorite toppings- chocolate chips, marshmallows, fruit, berries, etc and let your guests build their own treat.
You may have not heard of grunt before, but this mixed berry variation of the recipe is going to make you an instant fan! Fruit stew and dough, this dessert promises a unique and delicious experience!
Yeah, we know, this recipe sounds and looks amazing and trust us, it tastes even better! It may be on the smaller side, but these bite sized treats pack some huge flavor!
Continuing the peach trend, these mallows will just melt in your mouth. They are a great alternative to the previous recipe if you prefer extra fruit rather than pecans. This recipe stands on its own though as a fantastic dessert that will have you making more and more!
Marshmallows and strawberries may not be a combination you've thought of trying before, but just like strawberries and cake, it is an amazing combination!
This recipe is super easy and fun to prepare, and soon the warm marshmallow with the strawberry flavor will have you hooked on even more fruit dessert combos!
Who doesn't like pies! So, we selected a recipe that allows you to enjoy one by the fire. These smaller pies are an adorable and convenient variation on a classic dessert, just perfect for a camping trip! Just don't forget your pie iron!
This dessert is definitely for the older crowd! These honey rum grilled bananas are super unique because just when you think it stops there, the recipe includes vanilla ice cream!
Last but not least for our desserts, is a recipe that combines all the best aspects of the ones we've mentioned so far! With an assortment of berries, vanilla pound cake and chocolate, this dessert has something in it for everyone!
Other Recipes You Might Enjoy On Your Next Camping Trip
Easy Camping Meals For Large Groups
Camping with a group can be so much fun. Sharing the great outdoors with family and friends around the outdoor grill or camping stove will create great memories!
Always check with your guests before your trip to see if there are any food allergies that you need to consider.
Try a few on your next large scale camping holiday.