Looking for the best vegetarian camping recipes? Check out our collection of the best vegetarian camping meals for your next outdoor adventure!
Many of these have options to include meat, but all of the following recipes are perfect for vegetarian or vegan camping meals!
Why Eat Vegetarian While Camping?
There are many benefits to eating vegetarian camping food on your next camping trip. Here are just a few reasons why choosing vegetarian meals is best for your next camping trip.
Of course, you can add meat to just about any dish on this list; but for argument's sake, let's highlight the three best reasons not to!
It's Better For You
Studies have shown that vegetarian diets are associated with a lower risk of developing chronic diseases such as type two diabetes. A vegetarian camping menu can help you progress toward those health goals while enjoying time with family or friends in nature. So, why eat vegetarian while camping?
Doing so allows you to take advantage of vegetarian foods' health benefits while making memories that will last a lifetime.
It's Cheaper
Ditching meat-based meals for vegetarian camping food can offer several benefits for the budget-minded camper.
Not only does vegetarian meal preparation typically require fewer, less expensive ingredients––vegetables, beans, grains, spices––it also often reduces the time spent cooking.
Vegetarian meals are simple to prepare and require fewer skills than complicated hobo stews or roasted meats.
Less Refrigeration
Not only do vegetarian dishes typically offer a healthy balance of carbohydrates, fats, and proteins, but they require less refrigeration than meats or dairy products. Eliminating the need for a refrigerator allows vegetarian campers to create easy and delicious meals where ever their travels may take them.
From eggless omelets to vegetarian burgers made with ground beans, plenty of vegetarian camping recipes are perfect for keeping energy levels high on an outdoor adventure.
Vegetarian Breakfasts For Campers
Breakfast doesn't have to involve a ton of prep work, or even fresh ingredients. Check out these ideas for simple, yummy vegetarian camping recipes you can enjoy for breakfast!
Breakfast Foil Packs
Overnight Oats No-Cook Camping Breakfast Recipe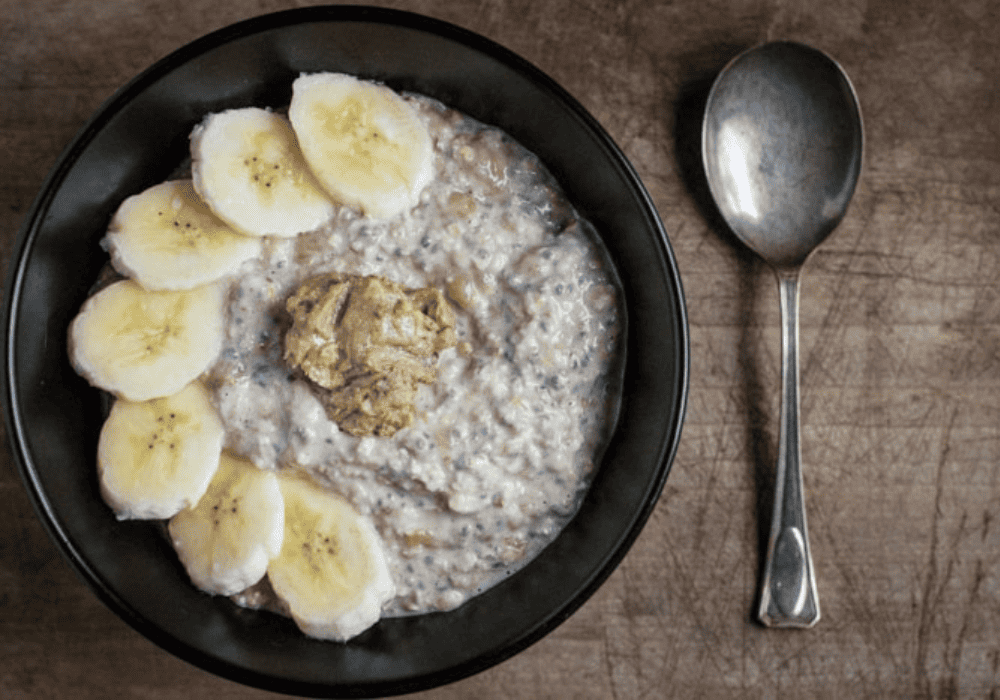 Overnight oats are a delicious way to start the day, and perfect camping food. You can make this quick and easy meal the night before your camping trip and refrigerate overnight; just keep cold until you're ready to eat!
With an array of optional ingredients, you can use chocolate chips, maple syrup, or apple for a camping meal you'll absolutely love!

GET THE RECIPE

Breakfast Eggs Baked in Avocado
Your Dutch-oven will be put to good use with this easy baked in avocado egg recipe. Ripe avocados made breakfast even more delicious; fashion your eggs with spices, chives, or even red pepper flakes with this versatile recipe.

GET THE RECIPE

Banana Coconut French Toast
Toasted coconut, French toast, and bananas? Be sure to grab a non-stick cast iron skillet for this easy French toast recipe. And why not indulge in a plate of yummy banana coconut French toast while enjoying coffee by a stream or river? Cooking French toast over the campfire has never been easier or more delicious!

GET THE RECIPE

Apple Cinnamon Overnight Oats
It's easy to get excited about camping when thinking of overnight oats recipes. This apple cinnamon overnight oats variation is sure to be a crowd-pleaser, with creamy oats and the taste of crisp apples! Perfect for fall camping!

GET THE RECIPE

Vegan Camping Pancake Mix
Skip the fried egg and opt for these gluten-free, vegan pancakes instead! With baking powder, baking soda, coconut sugar, oat flour and some salt, you'll make a cast iron skillet sing with this fluffy pancake recipe, topped with your favorite toppings.
Camping Breakfast Parfait Recipe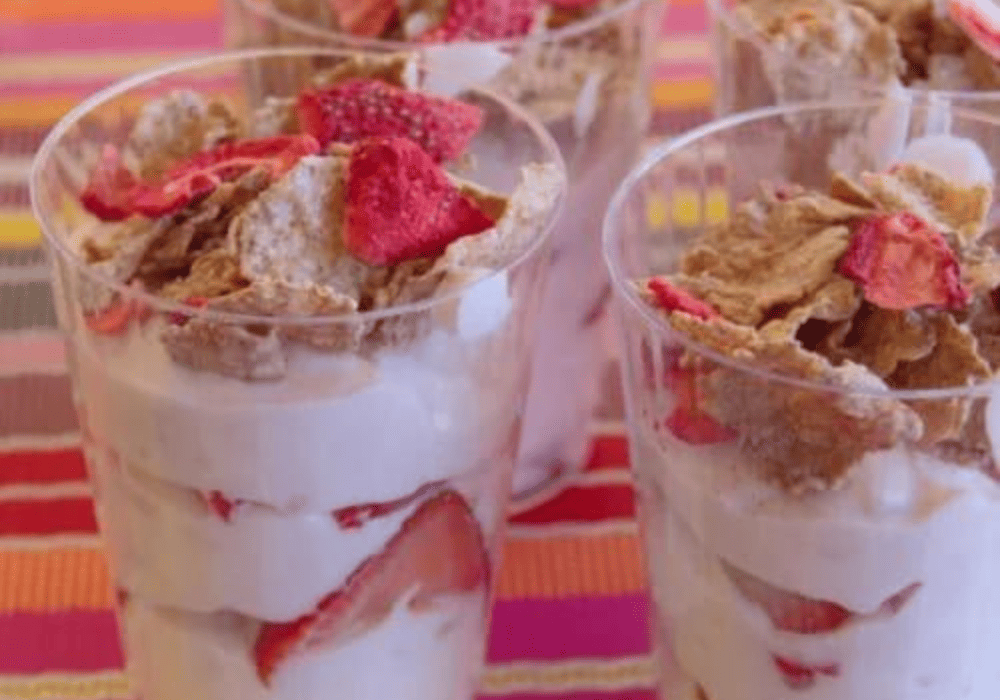 Love a good parfait and don't want to break your routine while camping? Check out this breakfast parfait recipe with raspberries and vanilla yogurt!

GET THE RECIPE

Breakfast Friendly Bliss Balls
Not only is this bliss balls recipe great for breakfast, but they make an excellent camping trip snack on the go and are extremely shelf stable! Totally worthy of an entry on your camp menu of yummy delights!

GET THE RECIPE

Sweet Potato & Egg Skillet
Using this recipe with sweet potato, fresh herbs, and some eggs, you'll have one of the best vegetarian camping meals for breakfast! And let's be honest, sweet potatoes are just amazing in the morning for a complete meal!
Easy Camping Yogurt Parfait Recipe
Pack up your favorite fruit for this yummy yogurt parfait recipe you can enjoy while camping. Fresh strawberries or blueberries (or both, we don't judge!) with crunchy granola is the best way to start a healthy day in a way you'll absolutely love!

GET THE RECIPE

The Best Granola Recipe For Camping
Why not try making your own granola on your next camping excursion? Here is a very simple recipe just for that! With dried apricots, dried cranberries, and pumpkin seeds, you'll have a sweet but savory granola you can munch while hitting the trails!

GET THE RECIPE

Cinnamon Sugar Campfire Donuts
You may be roughing it, but that doesn't mean breakfast has to! These campfire donuts with an irresistible cinnamon sugar flavor will remind you of how glamorous camping can be, especially with a nice cup of dark roast coffee to accompany your plate. Great for breakfast or even a light snack.

GET THE RECIPE

Hot Granola With Yogurt Recipe
Who says your breakfast has to be cold? While most granola and oatmeal recipes are eaten cold, this one is piping hot! And using freeze-dried bananas and freeze-dried yogurt melts will give this an amazing flavor to wake up with on those early camping mornings!

GET THE RECIPE

Best Vegetarian Camping Meals For Lunches
There's nothing quite like enjoying a tasty vegetarian lunch while hiking and camping. Whether you pack your Dutch oven or want to cook over the campfire (or avoid cooking at all), these lunches are sure to please.
Cucumber Tomato Salad
For a healthy lunch featuring red onion, sliced or diced tomatoes, and a tasty vinaigrette, skip cooking and try a delicious salad! Vegetarian camping food has never tasted so good on the trail with this recipe.

GET THE RECIPE

One Pot Pesto Pasta
With sun dried tomatoes, feta cheese, bell pepper, and optional vegetables like zucchini, you'll love this vegetarian camping lunch recipe. Worried about cooking in a pot over the grill? Pro tip: add a bit of olive oil if your pasta looks a little dry.
Campfire Caprese Grilled Cheese
Very few ingredients are needed to fire up the grill and enjoy these amazing grilled cheese sandwiches! With smoked mozzarella cheese, pesto, tomatoes and extra-virgin olive oil, even a die-hard meat lover will succumb to this grilled cheese masterpiece recipe.

GET THE RECIPE

Grilled Eggplant Parmesan Stacks
Featuring mozzarella cheese, parmesan, tomatoes, and delicious eggplant, this recipe is a surefire hit! If you're planning lighter vegetarian camping meals, this dish won't be too heavy on a hot day (unlike traditional eggplant parmesan). For a weighty camping meal, this recipe is a winner!

GET THE RECIPE

Camping Mexican Corn Recipe
Eat it alone or as a side dish; Mexican corn is awesome when you're camping during summer! This recipe has tons of variations to fit anyone's taste. Whether you want sweet corn with a taste of cinnamon, or tangy corn with a teriyaki kick, you'll find the perfect blend of ingredients for your taste buds!

GET THE RECIPE

Greek Salad
With this camping recipe, you can enjoy a refreshing Greek salad while fly-fishing by your campsite! While this recipe calls for pepperoni, you can opt-out to make a vegetarian Greek salad of your own! Use fresh or canned black olives if you want simplicity on the campsite.

GET THE RECIPE

Vegetarian Camping Recipes For Dinners
When enjoying the great outdoors, a well-rounded dinner is a must! Some of the following vegetarian recipes will have a meat option if those who want versatility.
Nonetheless, these camping recipes will have you excited to fire up the camp stove, iron skillet, and Dutch oven for a feast fit for a king!
Rainbow Grilled Veggie Kabobs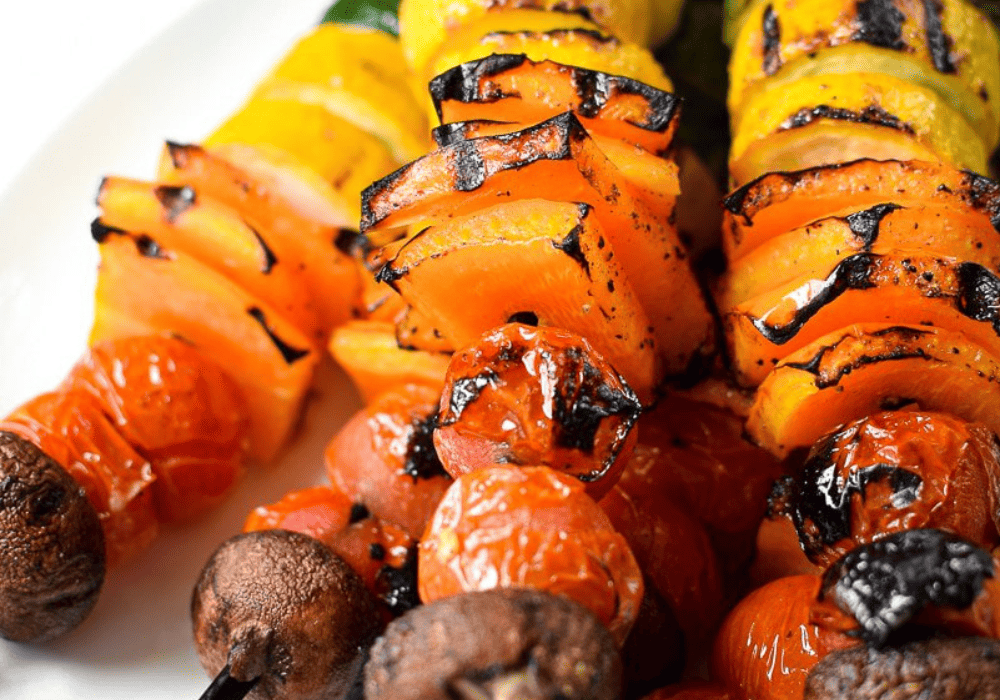 Vegetarian camping can't get any better than these grilled veggie kabobs! And honestly, you can't mess up grilled vegetables, and your ingredient options are endless!
From mushrooms to bell peppers, red onions to tomato, you can even add some yellow squash for a fun, rainbow-themed kabob. Try adding a nice balsamic vinaigrette for a kick! For a meat recipe option, try adding steak or chicken cubes.

GET THE RECIPE

Dutch Oven Cornbread With Green Chilies
Here is a side that can pair perfectly with your favorite vegetarian chili; cornbread with green chilies! Dry ingredients can be prepped ahead of time at home for ease of packing. If you can't find fresh hatch chilies, use canned instead so you don't miss out of this tasty cornbread on your next adventure!

GET THE RECIPE

5 Can Chili Recipe
If you don't want to spend time at home soaking beans for your next pot of camping chili, why not try 5 can chili? Pack up some canned beans and other ingredients, but don't forget your favorite cheese to sprinkle on top! This pairs well with any sweet but savory cornbread recipe you can make fireside as well.

GET THE RECIPE

Camp Recipe: Stuffed Mushrooms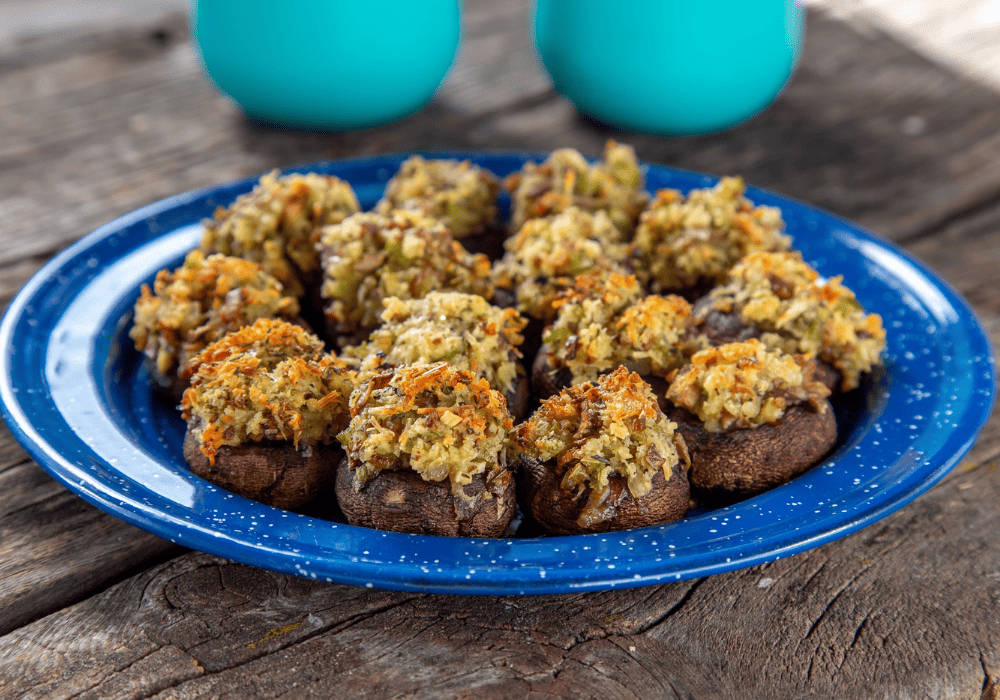 Who doesn't love stuffed mushrooms? This easy recipe is a great way to use your Dutch oven for a great appetizer or complete meal. With minced garlic (or, garlic powder as a substitute), parmesan cheese, and a veggie mix, these stuffed mushrooms are a must-try with your Dutch oven while enjoying the great outdoors. Try adding some ground meat for extra protein.

GET THE RECIPE

Dutch Oven Mac & Cheese Camping Recipe
Gather 'round the campfire for this amazing side-dish or full camping meal; Dutch oven mac and cheese! This is one of the tastiest vegetarian camping meals around, and this recipe will be a huge hit with your friends and family.
Use hot water to boil your macaroni, (which you may want to do at home beforehand), add the Velveeta and milk, and enjoy! If your kids love hot dogs, you can easily grill or cook a few to toss in the dish as well.

GET THE RECIPE

Campfire Glazed Grilled Carrots
With some carrots, salt, and a little olive oil, this easy side dish helps create a flavorful dinner! Serve with tofu or fish for a delectable experience.

GET THE RECIPE

Cast Iron Campfire Nachos
Who doesn't love campfire nachos? This recipe makes for an excellent appetizer, or you can rustle up enough grub to feed the whole family! You can cook this recipe with either a skillet, or the Dutch oven. Don't have fresh vegetables? Bring canned goods along for the trip!
Featuring black beans, tortilla chips, fresh cilantro, and avocado, these nachos are perfect for enjoying during happy hour around the campfire. Want to add some cooked meat options? Try diced chicken, ground beef, or even chunks of sausage for a yummy batch of campfire nachos everyone will absolutely love!

GET THE RECIPE

Black Bean Veggie Burger
Who doesn't love veggie burgers? A quintessential staple of vegetarian camping meals, black beans are the focal point of this scrumptious recipe. With chili powder, roasted sunflower seeds, chopped parsley, and cilantro, your taste buds will be amazed! After this meal is cooked on the grill, even the hard-core meat lover of your group won't deny how good your campfire veggie burgers are!

GET THE RECIPE

Hearty Vegetarian Chili
If you want a hearty chili full of tomato flavor, this is a worthy recipe! While there are many ingredients that you may want to prep at home, the ability to add frozen vegetarian meat crumbles is worth the effort. You can enjoy a healthy and hearty veggie chili without sacrificing flavor!

GET THE RECIPE

One Pot Veggie Chili Cornbread Casserole
Want some comfort food during your next camping trip? Why not whip up a robust veggie chili cornbread casserole? This three-bean chili recipe is packed with wholesome goodness.
If you want to make your chili just a little spicy, don't forget to pack a bottle of hot sauce for an extra added kick. But with a campfire meal this filling, don't be surprised if you want to lazily lie by the campfire at night with a full belly later! Pro tip: cocoa powder is a secret ingredient in many chili recipes; try it out!

GET THE RECIPE

Fire Roasted Sweet Potatoes
Why have normal, plain baked potatoes, when you can devour an amazing fire roasted sweet potato instead?
The best part about this recipe, is you don't even need a cooking dish or grill for this meal! Just place your sweet potatoes around the campfire! Who said camping recipes weren't this easy?

GET THE RECIPE

Irresistible 15-Minute Broccoli Salad
Let's face it; when we're having fun, we may not want even a campfire dinner to take a long time. That's why this broccoli salad is so amazing-it only take's 15 minutes!
It's also the easiest broccoli salad you'll find to create. With onion, bacon, cheese, and a creamy dressing, you'll soon want to make even more.

GET THE RECIPE

15 Minute Stir-Fry
All you need for this simple recipe is some mixed veggies, soy sauce, noodles, and spices for an amazing dinner! Add your favorite meat (like beef, chicken, or even shrimp) if you like, but even the vegetarian style is perfect after a long day of adventuring!
Plus, with only 15 minutes of cook time on the grill, it's so simple you'll want to try different variations each time you make it!

GET THE RECIPE

Easy Chickpea Curry
Have you ever tried curried chickpeas with coconut milk? This camping recipe is the best way to start! Super simple to make, you may even find yourself preparing this dish at home (sans the camping tent).

GET THE RECIPE

Vegetarian Recipes For Snacks
What camping meals recipe list would be complete without the snacks? Check out these ideas for ways to keep your campers fed while on a dusty trail.
A few of these suggestions may even make it to your dinner table at home!
Freeze Dried Fruit, Nut, & Seed Trail Mix
Freeze-dried fruits are awesome for backing and camping. This easy trail mix recipe calls for a yummy blend of blueberries, raspberries, and strawberries.
With pumpkin seeds, slow-roasted chews, and sunflower seeds, you'll have a great snacking experience to keep you engaged and exercising!
Strawberry Basil Bruschetta
Need a quick and easy, sweet and savory appetizer? Why not try this simple strawberry basil bruschetta? Use a grill grate for your propane grill or camp stove for this tasty snack to enjoy with a drink by the campfire.
You can also toast bread with a camp toaster if you have one!

GET THE RECIPE

Nuts and Seeds Trail Mix
These make a great snack, or even a lunch item, and trail mix recipes are pretty fun to mix up! The almonds, walnuts, and pumpkin seeds in this healthy trail mix are so yummy for snacking; and yes, you can even add a chocolate chip or twenty!

GET THE RECIPE

Lime Roasted Chickpeas
Aren't chickpeas amazing? They're so healthy and make for a great snack while you're setting up camp.
This recipe isn't too spicy, but leaves a lot of room for lovers of chili powder to add some zing to the limey goodness!

GET THE RECIPE

Healthy Dried Fruit & Nut Trail Mix
Taking baby on their first camping trip? Try this healthy dried fruit and nut trail mix recipe, including banana chips and baby safe puff snacks. It's perfect for little fingers to grasp (and don't worry, there's no peanuts!). Dried fruit options include raisins, blueberries, or cherries!
Of course if you wanted to throw in something extra sweet, like yogurt covered goodies, that's another route your baby might enjoy!

GET THE RECIPE

Boy Scouts Dutch Oven Campfire Peach Cobbler
Here's a treat the den mothers will love for their scouts next camping adventure; peach cobbler!
You only need four ingredients (peaches, yellow cake, butter, and cinnamon) to make this dutch oven masterpiece. Truthfully, recipes for peach cobbler are almost never this easy!

GET THE RECIPE

Campfire Spinach Dip
This might be ideal for your next camping trip, but also great for tailgate parties. Spinach dip that's creamy, served with a warm slice of french bread, and what more could you ask for?

GET THE RECIPE